OPINION: A Letter in Support of Bruce Shuttleworth
By: STEVEN VALLEY
June 10th, 2012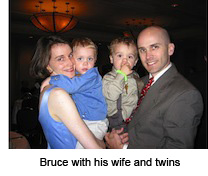 I've know Bruce for over 12 years now.  I was on his team at Microstrategy.  Even during difficult times, he was a motivating and incredibly professional boss.  I enjoyed seeking his advice on any number of issues.  In every one of my interactions with Bruce I was able to see the leader, the friend, and the compassionate person he is. Party politics aside, our district needs a new voice and Bruce is that voice.
I was forwarded the note below, written by someone in our district and it covers all of the points perfectly and really represents the guy I know would be a perfect catalyst for change:
______________________________________
Dear Friends,
We have an opportunity this Tuesday, June 12 to return honor and integrity to Virginia's 8th Congressional District seat by voting for Bruce Shuttleworth in the Democratic primary. Bruce has courageously entered the race to challenge entrenched Congressman Jim Moran, who has made headlines for years with charges of corruption and ethical impropriety. If you believe, as I do, that we deserve more honorable representation in Congress, please join me in voting for Bruce on Tuesday.
I have had the opportunity to get to know Bruce over the past few weeks and I cannot think of a better person to represent our district at time when Congress is controlled by special interests and divisive dialog. A humble and thoughtful leader, Bruce is not a stereotypical candidate. Some of his accomplishments:
Led his class at the Naval Academy
Finished first in flight school
Flew over Bosnia and Mogadishu
Earned an MBA from Harvard Business School
Helped companies as a strategy management consultant at BCG
Director at MicroStrategy and Blackboard
Coached his Twin's sports teams
Managed both of his Parent's healthcare as they battled cancer
He is principled in character, and willing to fight for what he believes in, which passionately includes all Democratic social values . He is also passionate about creating a more just, peaceful and sustainable America. He listens intently and respects the value of others experiences in a way that I have rarely seen in politics.
Sadly, both of Bruce's parents died of lung cancer, both non-smokers. I am certain that he intends to reduce America's deadly addiction to carbon-based fuels.
You can learn more about Bruce on his website at http://www.shuttleworthforcongress.org/ or you can reach out to me for more details.
I believe that in one of the best educated districts in the country we can do better. We can have representation that is by the people, for the people. Please take 10 minutes to vote for Bruce on Tuesday. The polls are open 6 am to 7 pm. With 65% undecided and low turnout predicted, your vote could be the difference.
Finally, please join me in supporting Bruce by spreading the word about his candidacy. Please forward this with your thoughts on Facebook, LinkedIn and your email networks.
If we want a different result, we will need different Congressmen.
______________________________________
As the author of the note states, 65% of the voters in our district are undecided, the vote is Tuesday next week, low turnout is expected because it's mid year.  We in Falls Church are very much used to these "out of cycle" votes so lets turn out in huge numbers and show Washington what we think about the same old same old congress.
The views expressed above represent those of the author alone.  The Falls Church Times makes no political endorsements.