By BARB CRAM
Special to the Falls Church Times
December 30, 2010
Well it's been two years since the Watch Night team has been able to enjoy many of the outdoor presentations and amusements, and the weather forecast shows that's all going to change for Friday's New Year's Eve Celebration in the downtown business district at the crossroads of Broad (Rt.  7) and Washington (Rt. 20) Sts.
The Grand Fun Alley will be filled with fun for all ages whether it is the Velcro Wall (shown) or the free popcorn, and Scotty's Karaoke, or The Tiger Belly (shown) or the shopping the New Year's Novelties, it is FUN to do and almost as much FUN to watch.
The next door restaurants of Pilin, The Dogwood Tavern, The Hunan Café, are anxious to serve hungry patrons with their Walking Watch Night Menus (posted at the entry doors for participating restaurants)Castle Slide Combo Moonbounces, or Argia's, Clare and Don's Beach Shack (WWNM) on N. Washington St, and on West Broad Ireland's Four Provinces, Maneki Neko,and Pho 88 will be open, as well as Applebee's on E. Broad.
The Main Stage is right on Broad Street with our own Duff the 66' Dragon who is 12' tall.
While watching the folks run the obstacle course, the Main Stage is loaded with entertainment beginning at 7 pm with musical acts performing through to the Historic Star countdown. From 7 until 9 the talent from George Mason High School, Guava, The Suppliers, and Rand's Band will be playing, and at 9:15 JUDO CHOP will be doing the 80's music (after they play Acoustically at behind 104 E. Broad St, home of Drs Theisz and Cannon), and Motown with Andre Jackson's band, SUDDEN M PAC will be rocking the stage at 11 pm. Countdown Festivities begin at 11:30.  There is a special surprise for Watch Night attendees happening after 11:30 pm near the Main Stage where this not to be missed event will delight the audience and the participants.  Hint: GMHS Dance Team has planned and practiced this for several weeks.  Be sure to arrive no later than 11:30 to witness this and see the Countdown!
Of course, there is a lot going on at the Main Stage, but the indoor venues are packed with many attractions as well.    The activities which have formerly been at the Center for Spiritual Enlightenment (just next to the State Theatre will be at the Falls Church Presbyterian Church).   The Narthax at the Falls Church Anglican is also not being used this year, so we could have the opportunity to do a tour of  The Historic Falls Church between 7 and 8 pm, followed by a special treat, Andrew Acosta's New Old Time String Band,  who will be playing at 8 pm.
A unique treat is in store.  Roy Odell "Speedy" Tolliver, winner of the first THE VIRGINIA HERITAGE AWARD from the State of Virginia Commission of the Arts will be featured on fiddle.    This award honors Virginia's masters of the traditional arts for their contributions to the cultural heritage of Virginia.  This is an opportunity to hear a music legend who is in his 90's now, and still teaches, jams and competes.  Speedy has so many awards, and even a festival named after him.
Just down E. Broad St. at No. Fairfax St. at the Falls Church Presbyterian Church, the Victorian Photo Studio will be at the N. Fairfax Entrance, which if you haven't done a portrait in Victorian clothing it is something special!  The Victorian Society brings all types of Victorian clothing for you to choose the outfit and dress in the special room provided and return to have your photo taken in the Victorian Parlor.  Further down that hallway is the spacious Fellowship Hall which will have a lot of activities, Professional Caricaturist,  Professional Face Painter, and Professional Balloon Artist/Entertainer along with free refreshments, including fresh popcorn!   Cowboy Hay will also be entertaining here throughout the evening with breaks to play the MainStage.
The very popular  Northern Lights Orchestra, will be playing from 8:30 until 10:30 pm.  Vocalist, Margie Johnson is featured this year.
Swing dancing and the great Big Band sound is something you don't want to miss.   Decorated tables and seating will round out the scene in the Fellowship Hall, with tents and refreshments provided at no charge
For a full listing of all venues and entertainment, please visit www.fallschurchva.gov/watchnight. where there are links to FB page, photos and even more details.
All of the indoor venues have FREE PARKING available, and there is a FREE SHUTTLE BUS to all venues and the circuit completes at the EAST FALLS CHURCH METRO stop running approximately every 30 minutes to each stop.
This year's route goes to all venues and most parking areas: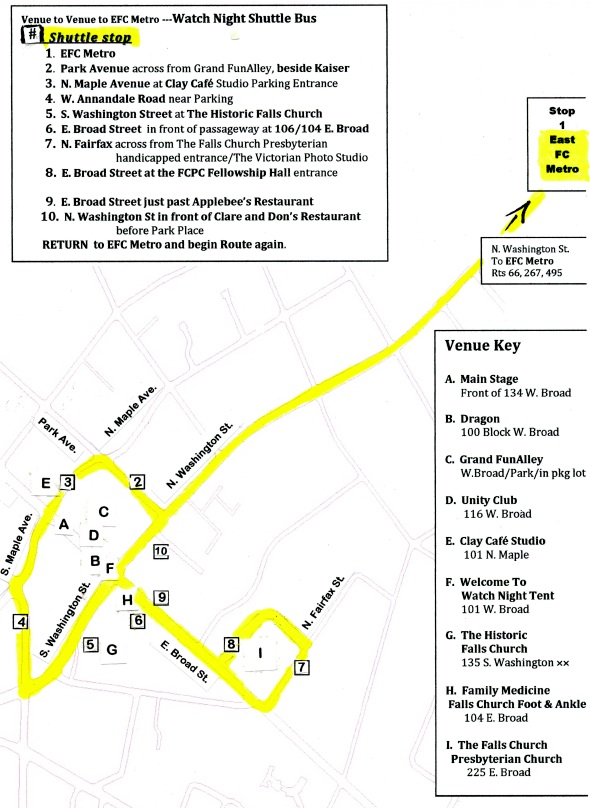 The Falls Church Anglican and The Falls Church Presbyterian parking areas entries are on East Broad Street and the Shuttle Bus will be stopping here and  at all venues.  The MC, Andre Jackson, is familiar to many in the City from his years working with the youth, will be running the show at the Main Stage.
The event has grown over the years due to the dedication of many people and efforts.  Our City business, organizations, and churches (who loan these organizations the use of their building and provide staff) are key to the organic growth of this strong community event.  I wish I could name here all of the many generous and skillful people who donate their time and talents and make this free party possible.  These selfless examples of community service, whose fuel of positive energy make this event the fun that it is.   I am proud to be part of it.
We are grateful for our loyal and dedicated sponsors:  Atlantic Realty, the City of Falls Church, The Falls Church Economic Development Authority, The Falls Church Chamber of Commerce and The Village Preservation and Improvement Society.
Watch Night 2011 is being dedicated to Howard Herman.  We appreciate the generous support and personal commitment of Howard Herman to improving our City throughout his 40 years of service to the City of Falls Church.  His iconic presence at the Community Center, The Falls Church Farmer's Market and set up at Watch  Night  are just a few examples of his commitment to the City.  The designation of the Falls Church Farmer's Market as #1 Market in America is a sampling of his leadership.   Building successes by listening and caring the way he does has been a hallmark of his service.  Watch Night will miss Howard Herman.  Thank you Howard from all of us who work on Watch Night, New Year's in the City of Falls Church City!
By FALLS CHURCH POLICE DEPARTMENT
December 28, 2010
Smoking in a Non-Designated Area, 6795 Wilson Blvd, #21 (Hai Lua Restaurant), Dec 21, 8:50 PM.  A 34 year old Lorton man and a 45 year old Reston man were arrested for Smoking in a Non-Designated Area.
Driving Under the Influence, Roosevelt Blvd/Roosevelt St, Dec 22, 12:46 AM.  A 31 year old Silver Spring, MD woman was arrested for Driving Under the Influence. 
Drunk in Public, 100 blk Chanel Ter, Dec 22, 4:57 AM.  A 20 year old Falls Church City man was arrested for being Drunk in Public. 
Drunk in Public, 110 N West St (7-11 Store), Dec 23, 1:26 AM.  A 57 year old man of no fixed address was arrested for being Drunk in Public.
Larceny from Building, 140 S Maple Ave (Bowl America), Dec 23, 10:43 PM, unknown suspect(s) took an iPhone left unattended on a table.
Larceny from Vehicle, 115 E Fairfax St (The Falls Church), Dec 24, between 7:00 PM and 11:00 PM, unknown suspect(s) took a wallet, purse and personal papers from an unlocked vehicle. 
Larceny from Building, 6795 Wilson Blvd, #52 (Café Dang), Dec 27, between 9:00 AM and 9:30 AM, unknown suspect(s) took an iPhone left unattended on a counter.
By FALLS CHURCH CITY PUBLIC SCHOOLS
December 22, 2010
School Board Chairman Joan Wodiska and Board members Kieran Sharpe and Susan Kearney met recently with George Mason High School students regarding the Board's doubling of student parking fees from $100 to $200 per school year.
Wodiska blamed the fee increase on "a serious budget gap" caused by a decline in state and local property and sales tax, in addition to a court decision requiring the City to return proceeds from the water fund. The situation was worsened by growing student enrollment and the generally poor state of the economy, she said.
Given the unprecedented financial challenges, Wodiska said, the School Board decision was based on the principles of  1) keeping cuts away from the classroom, and 2) being equitable and fair determining who would bear pain.
Wodiska said the current (FY 2011) school budget required making choices and trade-offs. For example, the School Board rejected "draconian cuts" to eliminate full-day kindergarten, art, or music. However, as a result, no school staff received raises, some staff members experienced a reduction in their take home pay or benefits, and positions were eliminated system-wide.
She stated that:
* More than 85 percent of the School Board's budget goes to pay salaries and benefits for school staff;
* City taxpayers provide $13,357 per student, with total per-student costs $16,858. (Average U.S. expenditure in 2007-2008 was $10,259 compared to $18,000 in Falls Church);
* Falls Church taxpayers will spend more than $200,000 for each student who attends 13 years of school in the City.
In comparing City Schools parking fees with those of surrounding jurisdiction, the School Board found that City fees had not been raised in more than 10 years and that existing George Mason parking fees were below others.
The Board decision to double the fee to $200 a year was unanimous, and was expected to raise an estimated $7,500.
The Board also established a policy that any student qualifying for free or reduced price meals would be eligible for a confidential, free parking fee waiver for childcare or employment reasons.
By FALLS CHURCH POLICE DEPARTMENT
December 22, 2010
Vandalism to Vehicle, 100 blk Chanel Terrace, Dec 15, sometime overnight, unknown suspect(s) slashed the left front tire and right rear tire of a vehicle.
Smoking Prohibited in Restaurant, 6799 Wilson Blvd (Café Vy), Dec 15, 3:02 PM.  Two employees from Annandale were arrested for permitting smoking in a restaurant. 
Smoking in a Non-Designated Area, 6799 Wilson Blvd (Café Vy), Dec 15, 3:09 PM.  A 46 year old McLean man was arrested for Smoking in a Non-Designated Area (restaurant).
Motor Vehicle Theft, 6700 blk Wilson Blvd (Eden Center), Dec 16, 9:55 PM, unknown suspect(s) took a vehicle which was left unattended with the door open and the engine running.  Vehicle recovered on Dec 17 at 2:30 AM in Arlington.
Smoking in a Non-Designated Area, 6757 Wilson Blvd, #6 (Quan Em Café), Dec 18, 11:13 PM.  A 44 year old Falls Church man was arrested for Smoking in a Non-Designated Area (restaurant).
Smoking in a Non-Designated Area, 6757 Wilson Blvd, #9 (Nang Chieu Restaurant), Dec 18, 11:14 PM.  A 40 year old Alexandria man was arrested for Smoking in a Non-Designated Area (restaurant).
Larceny – Theft From Building, 134 W Broad St (CVS), Dec 19, 9:24 PM, unknown suspect entered business and stole four bottles of Tide detergent.  Suspect described as Asian or Hispanic male, approximately 5`8″, of medium build, wearing a dark colored hat with white writing on the front, a brown jacket, light colored pants and dark colored shoes.  He left the area driving a red Audi or Hyundai without any license plates.
By ILENE SMITH
Falls Church Times Staff
December 17, 2010
Ok, so we've all heard about the decline of the American family eating meals together. Perhaps it's an inevitable result of the fast paced information age in which we live, with TVs in every room (including the kitchen). Or maybe it's simply all the kids' activities and the fact that most families now depend on two incomes. 
But regardless the cause, one effect is the kitchen is no longer the evening gathering point of many families. Is news of the demise of the American family dinner, and kitchen as the focal point of the home, a bit premature, however? Open any recent edition of Home & Design or Architectural Digest and it's clear that Americans are investing lots of time and money to make the kitchen the centerpiece of new construction and remodels alike. And these designs emphasize joining the culinary action, not just observing from the sidelines.
This "open kitchen" theme brings me to this review of a topnotch, innovative restaurant that realizes the full utilization of the kitchen as a focal place for families, friends, and colleagues, a place where cooking for a cause or the simple "joy of cooking" are equally important, in short, a kitchen for the entire community.  One would not fault you for being skeptical, after all, how can one restaurant accomplish all this? I must admit being a bit skeptical myself, but having recently witnessed all of these activities in action at Open Kitchen one recent afternoon, I'm no longer a skeptic, I'm a convert.
First some details: Open Kitchen is located just footsteps over the Falls Church City boundary across Leesburg Pike from the Middle and High Schools.  Just a tad over a year in business, Open Kitchen has already racked up some hefty accolades:  from winning the 2009 Taste of Falls Church, and Washington Business Journal ink, to having the Food Network Canada and A&E network filming in its "open kitchen."  Hue-Chan Karels, proprietress of Open Kitchen, was looking for a commercial kitchen to bake cookies and sell on the open market.  From this quest, the novel idea of creating a place to eat, cook and entertain, not in your home, but from an "open kitchen", ensued.  In addition to being blessed with an artist's creative mind, an entrepreneur's savvy and an Epicurean's palate, Ms. Karels also has more energy in her little finger than most of have in our entire body – and given all the "items on her plate", that's a good thing.
A recent Saturday at Open Kitchen began at 6 am, typical I'm told.  The first of Hue-Chan's staff and core-team member arrives to begin setting up for the utilization of all the four (yes, four!) kitchens that encompass Open Kitchen.  The smallest kitchen in the back is being used for a private catering event, and the chef has just shown up and is starting to cook.  The medium sized kitchen is being prepped for a 13 year old's birthday party, where the birthday girl and friends will be rolling out homemade fresh pasta, and then serving it to their parents that evening at the Open Kitchen.  The third kitchen is a prep kitchen used to prepare for the full-service restaurant evening dinner crowd.  The final kitchen is literally the open bistro-style kitchen located behind the bar, front and center of the restaurant.  The bar is tastefully designed with authentic butcher blocks that double as counters for prepping.  This "kitchen" is used not only as a restaurant serving lunch and dinner, but for cooking classes, and hosting cooking parties such as holiday parties, charity and fundraising activities, client and staff appreciation, and the newest and most innovative team building activity to come to the Falls Church City area,  the Iron Chef competition.
When I arrived at 3pm, a local IT company's team building ersatz Iron Chef competition was in full swing.  I had the honor of being one of the judges for this competition, which pitted Team Bobby Flay (men) vs. team Rachael Ray (women).    As anyone who has spent time in a busy kitchen can attest, this is a very unique and effective way to bring people together.  After the teams had ample time to work on their masterpieces, albeit with a little help from the Open Kitchen chefs, they plated up and proudly displayed their finished products on the butcher block counter.   It was now time to taste and score the incredible creations from the contestants.  Recreated in a manner that is modeled on the Food Network's popular television show of the same name, each culinary creation was judged on taste, presentation and creativity. By the way, Team Bobby Flay won, but it was very close!
The conclusion of the team building experience brought us to 4:35pm, with just 25 minutes to go until Open Kitchen must be fully staffed and prepped for the dinner crowd.  Incredibly, by 5pm the "Iron Chef" kitchen had metamorphed back into a Bistro kitchen, ready for patrons to start streaming in for the final "act" at the Open Kitchen, dinner.  With an eclectic and diverse menu that features fresh local ingredients combined with a creative flair, dinner is truly a unique experience.  I suggest you sit at the bar and enjoy watching your meal prepared while sipping a nice glass of wine, you can't beat the price of admission.  Those desiring a quiet, intimate dinner space may select a table away from the Chef's bar. Either way, the food is outstanding and is complemented with a pragmatic and international wine selection.   Also noteworthy is the fact that Open Kitchen works hard to reduce its carbon footprint. In fact, it was recently certified a Green Restaurant by Virginia Green, a state-wide program that reduces the environmental impact of the restaurant and tourism industry.
So go to the Open Kitchen – for dinner with your spouse, with your kids for cooking lessons, with your office staff for a friendly team building competition, with your extended family for a private banquet extravaganza – and while you're there, enjoy the food, the wonderful ambience, the sights, sounds and scents of a truly open kitchen – just go, and go often!
* * * * * * * * * * *
Open Kitchen's Bistro
7115 Leesburg Pike
Falls Church, VA 22043-2367
(703) 942-8148
http://openkitchen-dcmetro.com
Open Wed-Fri 11am-2pm, 5pm-10pm; Sat 11am-10pm
By FALLS CHURCH POLICE DEPARTMENT
December 15, 2010
Larceny –  Theft from Motor Vehicle, 127 E Broad St (Applebee's), Dec 9, between 5:15 and 6:15 PM,  unknown suspect(s) broke a vehicle's rear passenger window and took a Dell laptop and case.
Larceny  –   Theft from Building, 400 blk Park Ave, Dec 10, 1:20 PM, unknown suspect(s) forced entrance through a garage side door and took numerous items.
Larceny  –  Theft from Motor Vehicle, 1300 blk Gibson Pl, 9:08 AM, unknown suspect(s) smashed the front passenger side window of a vehicle and took a GPS.
Driving Under the Influence, 1000 blk E Broad St, Dec 11, 11:49 PM.  A 32 year old Falls Church woman was arrested for Driving Under the Influence and Refusal.
By FALLS CHURCH OFFICE OF COMMUNICATIONS
December 9, 2010
At its Annual Membership and Awards Luncheon, the Metropolitan Washington Council of Governments presented Falls Church Vice Mayor David Snyder with its highest honor, the Elizabeth and David Scull Metropolitan Public Service Award.  The award is presented annually to an elected official for outstanding service to residents of the metropolitan Washington region. 
Mr. Snyder, who serves as Chairman of the region's Transportation Planning Board (TPB), was recognized for his work in bringing regional leaders and citizens together to forge consensus on transportation issues as well as his advocacy for increasing transportation funding and studying new ways to finance projects.  Under his leadership, the TPB hosted an event in May that included over 80 TPB members, stakeholders, and citizens for an in-depth discussion on setting long-range transportation priorities, which had been requested by the TPB's Citizen Advisory Committee. 
"David Snyder has been supportive of major regional initiatives such as the TPB's award-winning, TIGER project, a $59 million federal grant that will improve bus transit throughout the District, Maryland and Virginia ," said Kwame Brown , D.C. Council Chairman-Elect and COG Board Chairman.  "On a day when we celebrate and promote regionalism, it is fitting that we honor him." 
Mr. Snyder has served on the Falls Church City Council since 1994 and was elected vice mayor in July 2010.
 
By FALLS CHURCH POLICE DEPARTMENT
December 8, 2010
Larceny – Theft from Building, 1101 W Broad St (FC Auto), Nov 30, 8:39 AM, unknown suspect(s) cut the keyed padlock on an exterior door and removed numerous items from a storage area.
Smoking in a Non-Designated Area, 6795 Wilson Blvd, #21 (Hai Lua Restaurant), Nov 30, 10:10 PM.  A 44 year old Annandale man was cited for Smoking in a Non-Designated Area (restaurant).
Smoking in a Non-Designated Area, 6757 Wilson Blvd (Eden Center), Dec 1, 2:11 AM.  A 33 year old Great Falls man was cited for Smoking in a Non-Designated Area (hallway).
Larceny – Shoplifting, 1150 W Broad St (CVS), Dec 1, 7:26 PM.  A 58 year old Falls Church man was arrested for Shoplifting.
Larceny – Theft from Building, 1230 W Broad St (Giant), Dec 5, 12:24 PM, unknown suspect(s) took a wallet from a purse left unattended in a grocery cart.
Felonious Assault, 6795 Wilson Blvd, #21 (Hai Lua Restaurant), Dec 6, 1:02 AM, officers responded to a fight in progress call but were unable to gain any information from employees or patrons.  A search was undertaken and a victim was found hiding in the kitchen.  A check of local hospitals located a second victim. Investigation continues.