By GEORGE SOUTHERN
Falls Church Times Staff
December 27, 2010
From the December 15, 2010, edition of the Washington Post:
The Washington area's affluence and education levels make it the wealthiest and most educated region in the nation, according to census data . . . .  Fairfax and Loudoun were the only two U.S. counties with median household incomes surpassing $100,000. Tiny Falls Church, which is an independent city and counted separately, had that median income level as well. . . . [T]he island of Falls Church stood out in the ocean of wealth that is suburban Washington. . . .  The median household income in Falls Church tops $113,000.
Reaction of a fellow staff member at the Falls Church Times: "But I don't FEEL rich!"
In fact, an analysis by this writer indicates that Census Bureau statistics by no means substantiate the Washington Post's claim that Falls Church is the "wealthiest region in the nation."
For that matter, simply driving through the streets of the City and observing the houses is common-sense proof that Falls Church is hardly the richest area in the country (unless a lot of Warren Buffett-types live in those "ordinary" residences).
But how could news reports citing U.S. Census data be wrong? The answer is that while the reports technically are not "wrong," they are highly misleading and poorly interpreted. The Washington Post, not the Census Bureau, labeled us "wealthiest in the nation."  They drew that assumption from a list of counties with median household income above $100,000.
But "median household income" is a very imperfect indicator of wealth. For one thing, it leaves out net worth. For another, it favors homogeneous areas over disparate ones. Falls Church, like Loudoun and Fairfax counties, has few outliers. While there aren't that many fabulously rich families, the great majority are quite comfortable. And remember that "median income" is not the average but rather the mid-point.
Net worth is the only real measurement of wealth, but the trouble is that it's hard to get statistics on net worth and much easier to measure income.  So even Forbes Magazine takes the easy way out and uses median income to compile its list of "America's 25 Richest Counties."
The biggest statistical anomaly, however, is the fact that Falls Church City, although not a county and measuring only 2.2 square miles, is nevertheless ranked among counties. That's because the state of Virginia, alone among the 50 states, prohibits cities from being part of a county.
There is no rural land in Falls Church, and City lines were drawn to exclude anyone living "across the tracks." So little Falls Church is a "tenderloin" thrown into a comparison with other more disparate areas. Think of the Little City as the "Liechtenstein" of the United States. That also helps explain Falls Church's #1 ranking in the United States with 69.5 percent of residents over age 25 holding a bachelor's degree.
But if Georgetown, or Old Town Alexandria, or McLean, or Clifton, or hundreds of other places were considered a county for statistical purposes, their incomes would all outrank Falls Church City. In fact, in Wikipedia's list of 100 "Highest Income Places" (vice counties ) in the United States, measuring per capita income, Falls Church doesn't even appear.
For example, even Beverly Hills, CA, with a per capita income of $65,500, barely makes the list of 100 Highest Income Places, coming in at #99. Yet Falls Church City's per capita income, at around $41,000, is less than two-thirds that of Beverly Hills.
The 98 other "places" with per capita incomes higher than Beverly Hills include Palm Beach FL, Chevy Chase  Village MD, Scarsdale NY, Sausalito CA, Weston (Both MA and CT), Great Falls VA, Malibu CA, Westport CT, and 89 more with a population of at least 1,000.
In conclusion, census data indicate that the City of Falls Church, along with Loudoun and Fairfax counties, enjoys a higher median household income than any other county in the United States. But that median income of $113,000 is typical of a white-collar, middle-class family with two wage-earners — the type of family that is attracted to Falls Church. The median income is high because there just aren't very many low-income dwelling units in the City.
But for real "wealth," look elsewhere than in Falls Church.
George Southern is a former international economist for the U.S. Department of State.
By GEORGE SOUTHERN
Falls Church Times Staff
December 21, 2010
The fiscal watchdog group appointed by Falls Church City Council has released a scathing memo alleging that the City's current budget may violate both the Code of Virginia and the City's own code, if it knowingly was drafted and passed as a deficit budget. State law requires local jurisdictions to assess a tax rate sufficient to meet expenses – in other words, to pass a balanced budget.
The volunteer Long-Range Financial Planning Working Group, which wrote the memo, was established by the City Council in October 2009 to analyze and advise on the City's budget and financial condition. The chair is Richard Sommerfeld, whose career includes investment banking and advising governments on finance and economic policies.
In a December 10 memo to the City Council, the working group charges that "it does not appear that the City has been in compliance with its own financial policies."
The crux of the issue is the timing of the City's two real estate tax billings, due June 5 and December 5 each year. Because the City's fiscal year ended June 30, tax income received by June 5 was used to balance the budget at the very end of the fiscal year.
But soon after the new fiscal year began, the City came up short. The memo notes that on September 24, only three months into the new fiscal year, the city manager reported a $1.4 million deficit to the City Council.
The memo quotes City Council member Lawrence Webb as stating October 18 that "We were doing a push-off. We told the public that there would be an increase . . . . We didn't want such a high increase in June, to give folks time to prepare for an additional expense."
In the absence of any further spending cuts, the City should have increased the real estate tax rate from $1.24 to $1.28 for the billing due December 5, the working group writes.
At a December 16 meeting, chairman Sommerfeld told the working group that "at the time the city manager knows he has a deficit, he must either ask for a tax increase or cut expenses. He said he would wait until June to do that."
According to Sommerfeld, "the ball is now in Council's court to correct the deficit. If not corrected, it rolls into [fiscal year] 2012."
During the meeting, Sommerfeld also reported that the City missed the November 30 deadline for filing a financial statement with Richmond. A required audit was not completed on time.
Sommerfeld also stated that "the City auditor found a $4 million hole in the Schools pension fund," which "was not accruing sufficient funds" and "appears to be substandard accounting."
Sommerfeld was particularly critical of City Manager Wyatt Shields for "assuming a 3.3 percent increase in property receipts, while the City assessor was recommending a 3 percent decrease."
Another serious problem is that only $140,000 is allocated for capital improvements. "We have all this expensive infrastructure and we're not maintaining it," Sommerfeld charged.
Additionally, the city manager's proposals for next year are not sufficient to restore the City's fund balance to 12 percent of General Fund revenue, as required by City statute, Sommerfeld said, because the proposals "leave out things like catching up on pension funds and paying back the water fund."
The memo is available here.
Additionally, on December 20, Sommerfeld wrote a related comment in the Falls Church Times which may be read here.
.
December 20, 2010
Dear Readers of "Man About Town,"
My heartfelt thanks to all of you who wrote encouraging words on the occasion of my "retirement" as a column writer. I will admit that, after 18 months of Mondays, I have never felt more relaxed!
That said, all staff members of the Falls Church Times have the opportunity to write an occasional opinion piece, and I expect I'll not be able to resist that myself.
As to whether my "straight reporting" will be unbiased, I quote E.B. White:
I have yet to see a piece of writing, political or non-political, that does not have a slant. All writing slants the way a writer leans, and no man is born perpendicular.
Now, one unfinished piece of business: As I noted last week, my column efforts could more and more be boiled down to a few sentences:
1) Falls Church City suffers from an almost unique nexus of legal and geographic limitations that convinces me the Little City is unsustainable, and this decade will likely be its last.
2) We can either wait for the inevitable and accept what is decided for us, or we can endeavor to manage our own destiny.
3) The best outcome would be to merge with Arlington County, whom we already depend on for a myriad of services. Merging our schools with Arlington would significantly increase course opportunities for our students.
4) Failure to actively work toward a merger with Arlington will result in a re-absorption into Fairfax County.
5) To those who say merger with Arlington is prohibited by state law, I say (with 25 years' experience in government) that in politics, everything is negotiable.
FIRST HURDLE: "Convincing" Arlington to take us: Piece of cake. Every bureaucracy desires growth, and let's not sell ourselves short – we are a very desirable piece of real estate. Read John Bennett's comment a year ago reporting the opinion of a former chairman of the Arlington Board of Supervisors.
SECOND HURDLE: Convincing Fairfax County to "let" us join Arlington. Fairfax could, and would, block us except for one thing: We have something Fairfax wants very badly – a waterworks that services its residents. Joining Arlington should be a package deal that allows Fairfax to buy our waterworks. That should keep them happy. But we need to take action while we still have bargaining power.
THIRD HURDLE: Obtaining the votes in the General Assembly to make this happen. That's the easy part. If Falls Church, Arlington, and Fairfax County all desire it, there's really no opposition.
And so, dear readers, I rest my case. As we enter a new year fraught with fiscal peril and an inevitable battle over school funding, remember that there is a way out – maybe not the way that we would choose, but a solution nevertheless.
And that's my final word.
Thanks again for your kind words!
GEORGE (ex-Man About Town) SOUTHERN
By GEORGE SOUTHERN
Falls Church Times Columnist

December 13, 2010
The Man About Town's first column in the Falls Church Times ran just shy of 18 months ago. It was about the author James Thurber and how in 1902 he was shot in the eye with an arrow on Maple Avenue. For his trouble, James Thurber Court is named after him.
That was the idea of the column – walk and bike around town and offer whimsical commentary. There followed articles on the duck tree on South Virginia Avenue and the skateboard park, but thereafter the Man About Town began to exhibit a critical bent. A list of the City's Ugliest Buildings shocked one of our editors, who temporarily withheld it from publication for fear of upsetting people. Little could he imagine how many upsets were to come.
The Big Bang came September 21, 2009, with Why Falls Church Needs Arlington:
Falls Church City is no longer economically sustainable. You won't read that anywhere else because other media have a vested interest in preserving the status quo. Read more
By GEORGE SOUTHERN
Falls Church Times Columnist
December 6, 2010
As foreseen, "the fight for the schools" has intensified, including skirmishes on the electronic pages of the Falls Church Times. So far the words remain largely civil, but civil words can nevertheless lead to civil wars. And the fight for the schools threatens to become a civil war – a fight, not against outside forces, but of neighbor against neighbor.
"Fighting for the schools" is a proud tradition in Falls Church, as documented by the late A.C. Miller, who wrote a short history of the CBC (Citizens for a Better City) for the Falls Church Times in April 2009. Miller compared the CBC to a PTA, "not Republican or Democratic, but a non-partisan, or perhaps multi-partisan organization of parents fighting for the best schools."
Current CBC President Sally Ekfelt blew the same trumpet in a comment to the FCT last week: "We think independence is worth fighting for."
Also last week, City Patriarch Lou Olom wrote a letter to the FCT, urging City taxpayers to continue to lend adequate financial support to the schools. That letter, and the 29 comments it generated, was the most-read item of the week – nearly 1,300 views so far. And it inspired another seasoned observer, Ed Strait, to write that Olom was "a leading fighter for the high-quality public school system in Falls Church today," the main CBC activist who "fought that fight in 1959."
But whom are these proud fighters fighting against? Then-Mayor Robin Gardner stated in April 2009 that "the School Board's job is to do whatever they can to fight for their school staff. Our [City Council's] job is to fight as hard as we can for our City staff."
And there lies the crux of the matter: the "fight" for the schools is, and always has been, over money, and who gets it. The City broke away from Fairfax County in 1948 because town parents wanted a better education for their children than the then-hayseed county schools were providing. And the townies were willing to pay for it.
Unfortunately, the law of unintended consequences has caught up with the City of Falls Church. "Build a better mousetrap, and the world will beat a path to your door." The better mousetrap is the City school system, often likened to private schools: small, well-bred, and exclusive, requiring an expensive ticket for admission — the price of Falls Church real estate – and only the privileged need apply. Evidence is the percentage of students receiving free/reduced lunch: 32 percent in Arlington, 26 percent in Fairfax County, and 8 percent in Falls Church City.
The Man About Town broached this subject nine months ago in a much-maligned  commentary that unleashed a firestorm of response, the most scathing coming from David Chavern, who accused me of suggesting that the City Schools' popularity is a form of "white flight." Well, this time I won't try to reason why our schools are in demand, and ask instead how and if we can meet that demand.
FACT: Smaller school systems are more expensive per student than larger school systems. Arlington has 10 times our students; Fairfax 100 times.
FACT: Unfunded mandates would bankrupt any school system without state and federal aid. But wealthy Falls Church receives only a fraction of the outside support flowing to other small jurisdictions. The next-smallest area school system after Falls Church is Manassas City, with 3 ½ times as many students. But 49 percent of Manassas school costs come from state and federal funding. In the Little City, that figure is 21 percent.
FACT: For the past two years, City funding of schools has declined, even while student enrollments increase 2-3 percent per year.
The battle lines are drawn. On January 11 we'll hear Superintendent Lois Berlin's proposed school budget for next year. Will she make further cuts to last year's draconian budget?
Whether parents or not, we all have a dog in this fight. But is it a fight that can be won? I don't see how. The more we fund the schools, the more exclusive, and therefore desirable, they become, thus heightening demand. Expensive schools beget even more expensive schools.
And the alternative? Will our children still study Yeats?
Turning and turning in the widening gyre
The falcon cannot hear the falconer;
Things fall apart; the centre cannot hold. . .
By GEORGE SOUTHERN
Falls Church Times Columnist
November 29, 2010
The Citizens for a Better City held their annual meeting last week, and I got the impression from President Sally Ekfelt's email to the Falls Church Times that, even though I'm not a member, I would have been welcome to attend. But I didn't go, and now I'm kicking myself.
That's because, according to the News-Press, the CBC membership debated a proposal to change wording in their by-laws from "small town character" to "Little City."
This goes to the core of why I moved to Falls Church, and why I write this column. For me, it's all about the "small town character," a.k.a. "village atmosphere," a.k.a. "Mayberry."
According to the News-Press, the motion to change "small town" to "Little City" lost 20-17. That says something right there – the once powerful and mighty CBC mustered only 37 voting members at its annual meeting (which included food).
I wanted to read more about the CBC's take on "small town character," so I researched their website. Strangely enough, I couldn't find a word about it in their by-laws. The closest I could come was a reference to "policies to assure that residential and business development will be compatible with the predominantly single-family residential, low-skyline character of Falls Church city."
That line alone was almost enough to entice me to join the CBC. But according to another by-law, I'm not eligible: Members must pledge "to sustain Falls Church's status as an independent city." Since I'm convinced that our future as an independent city is unsustainable, I couldn't make that pledge.
Worse, still according to the News-Press, members voted to delete the by-law language about the City's "single-family residential, low-skyline character."
While reading the CBC website I discovered a goldmine of information by Wayne Dexter, who charts the City's formation from 1948, illustrating in the process that there's nothing new under the sun. As a fairly recent émigré (eight years), I've been thinking that the City's current political and financial turmoil is unprecedented. But Dexter's history documents that it's only par for the course – Falls Church has experienced life-threatening episodes almost since its formation in 1948.
Especially interesting is Dexter's description of the "strip zoning of West Broad" in the early 1950s. The Planning Commission opposed strip zoning because it "effectively prevented block zoning which could have permitted creation of a more desirable central business district and more sensible traffic management." But the City Council overrode the Planning Commission, and we got the stick-like business district of today – one mile long and one block wide. Contrast that with the charming business district grid in Old Town Alexandria, or even Leesburg – they're both historic and highly walkable.
Dexter also tells about the proposal in the late 1960s by First Virginia Bank to build a high-rise office building at the corner of Broad and Washington. At the time, the City had a seven-story height restriction, and some residents feared that allowing the bank building could lead to a Falls Church that resembled Rosslyn. Others, however, saw the bank building as "an essential key to the long-sought creation of a central business district." In the end, the bank withdrew its proposal, and ultimately built the twin black towers at Seven Corners, just outside City limits.
But the real story of the City, as documented by Dexter, is the schools. With the City's 1948 formation, the first elected City Council approved what must have been a substantial bond issue to build a new high school and renovate other schools. "Opposition was immediate, vigorous, and persistent," Dexter writes. In the next election, opponents gained control of City Council, and the entire School Board resigned. But in 1953, supporters of the school system regained control, and construction began.
As 2011 approaches, the City is at that same old crossroad: Dare we raise taxes enough to sufficiently fund the schools? The City's patriarch, Lou Olom, has seen it all before, and in a letter elsewhere on this page he urges taxpayers to stay the course.
What might such a course cost? During the baby boom years, Falls Church had a larger student population than it does today, but education expenses have risen exponentially over the last couple of decades. The City shouldered the cost then, but can it now?
I continue to maintain that the cost to the taxpayer to run a "boutique" city and a "boutique" school system is far higher than we are presently paying.  Last year, City Council approved a $1.24 tax rate, but it wasn't nearly enough. Now we're living on borrowed time, with little provision for maintenance, repairs, or improvements to the City's infrastructure.
Perhaps you've read that next year's tax increase could be as low as 4 cents. Don't believe it. Any such action could lead to another School Board resignation en masse.
So what's to become of us? I don't know – but it looks to me as if 2011 will be another year for the history books. Get ready, Mr. Dexter – there's going to be a lot to write.
By GEORGE SOUTHERN
Falls Church Times Columnist
November 22, 2010
No, despite the headline, the Man About Town is not indulging in Washington commentary. When I ask, "Where's the change," I'm sticking close to home. The new City Council has been in office almost five months now, and I can name only two actions different from what their predecessors would have done:
(1) Repealed the election change ordinance in favor of a referendum; and
(2) Declined to provide a million-dollar advance on proposed new seniors housing.
That's it. And in the greater scheme of things, those two "changes" are less than defining moments.
The previous Council behaved as if their ship of state had not struck an iceberg, and was not sinking. And I gave them grief for that. But now the new Council seems to be acting out the same role.
Where's the sackcloth and ashes? Wailing and gnashing of teeth? Maybe it's going on in private, but don't the taxpayers deserve to know if Council is worried?
But to be fair, just what could City Council do dramatically different? Frankly, I can't think of anything that wouldn't cause a firestorm of protest. Because institutions always resist change. And the Little City is no exception.
Does anyone really know how bad it is?
Each month, City Council gets a report from the acting Chief Financial Officer. That's at least an improvement – it used to be only quarterly. But at last Monday night's briefing our CFO admitted not to having been aware that the state Supreme Court had declined to hear the City's appeal of the Water War judgment. (Note to CFO: Read the Falls Church Times!)  That means the City has 30 days to pay out close to $2.5 million.
The financial report as of October 31 shows the City's fund balance at a flat $2 million. Subtract $2.5 million from that, and . . . .
Of course, there will be a cash infusion come December 5 when property tax is due. But talk about living paycheck to paycheck!
The new City Council, like the old City Council, continues to ignore the "elephant in the room." And this time I'm talking about capital improvements. Simply put, there are none. Because we can't afford them.
As the ship of state lists to starboard, we're planning a budget that essentially ignores the fact that buildings and equipment wear out. And that school and City employees, while appreciative of an annual salary hike, at the very least don't want to see their net paycheck shrink – which could happen when employees shoulder a larger share of pension contributions.
Our City Manager has prepared a draft resolution for Council to approve that would "guide" him in making the budget. Included in his proposal is:
(1) No increase in real estate revenue. But since property values (particularly commercial) continue to decline, the projection is that we'll need a 4 cent tax increase to obtain the same revenue as this year.
(2) Increased pension costs of $1 million and one-half percent higher operational costs.
Add (1) and (2) and what have you got? A slash-and-burn personnel policy. There's no other way to balance the budget – and forget about trying to restore the fund balance, or provide for capital improvements, or fund the schools' increased enrollment.
No, in the end, the new City Council is pretty much like the old City Council. They're not miracle workers. And for that matter, why should we expect them to be?
I certainly don't claim to have an answer how to fund the Little City – short of just raising the tax rate as needed. I think 26 cents would be a good start, which would give us a nice round rate of $1.50. Then you could restore the fund balance, pay for the schools, and start providing again for capital improvements.
Trouble is, not a single member of Council ran on an "Increase Our Taxes" campaign.
But the hard truth is, if you want a boutique city with a boutique school system, you have to pay for it. If, on the other hand, you want efficiency, you have to consolidate.
Meanwhile, the only good news is the City's application for $6 million in interest-free school construction bonds provided by the Feds and divvied up by the State of Virginia.
But, while it's worth a try applying for the money, we should remember that every other school district in the state has its eyes on the same pot. And Falls Church does just happen to be the wealthiest district, per capita, in the state. So I wouldn't bank on that "free money" just yet.
By GEORGE SOUTHERN
Falls Church Times Columnist
November 15, 2010
I well remember the first time I met Howie the beekeeper at the Farmers Market. He had a modest little table at the very edge of the market set up with jars labeled "Howie's Honey." Having read something about the recent alarming decline in honeybees, I started asking him questions, and learned quite a bit.
I had read about farmers paying beekeepers to transport bees from long distances to pollinate their crops. But Howie explained that bees suffer stress, just like people do, and that constant travel is hard on them. He also shocked me with the news that bees increasingly are being fed high fructose corn syrup in place of natural pollen. You can taste the difference in the honey, he assured me.
Howie wouldn't remember that encounter – he talks to hundreds of folks at the Farmers Market – but I walked away feeling I had met a man who was leading an enviable life, doing precisely what he wanted.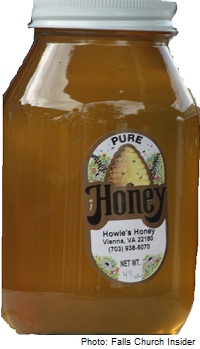 Only later after I got involved with the Falls Church Times and began attending City Council meetings did I discover that Howie (or Howard Herman, as he's officially known) does much more than keep bees. And his participation in the Farmers Market goes a lot further than selling honey. For as many readers know, Herman founded the City's Farmers Market in 1986 and has nurtured it ever since.
"When we first started, I was literally begging people to come," Herman told our former food critic, Jimmy Scarano, last year. "We had eight farmers and they would complain that there wasn't enough business for them. Some Saturdays I sat there and wondered if it would survive."
Well, survive it did, of course, and I'm betting that a big reason was Herman's stick-to-itiveness. And now, almost a quarter of a century later, the Falls Church Farmers Market has been recognized as #1 in the country within its size category.
Herman defines stick-to-itiveness.  He's worked for the City since his high school days — 40 years this October. And his job(s) include managing recreation and parks as well as community services – which seems to include about everything short of law enforcement.
The library? Herman's responsibility. Housing and Human Services? Herman. Court Services? Ditto.
Who's in charge of Memorial Day festivities – the most important day in the City? Herman, of course. And all the lesser events as well — Taste of Falls Church, Fall Festival, Farm Day, etc.
Howard has coached youth basketball teams for years and, according to our reader commenters, plays a mean game himself. If you see him you'll know why – he has a natural advantage.
Something I heard Howard say at a City Council work session last April stuck with me. It was during the time the Council was looking for ways to save a nickel here and a dime there in the face of a huge tax increase. As councils invariably do, they focused on penny-ante things while leaving big-ticket items (such as the Sheriff's budget) intact: Reduce library hours. Eliminate City funding for 4th of July fireworks, the Easter egg hunt, the Halloween carnival, and December 31 Watch Night.
That's when Herman spoke up (which he rarely does at Council sessions). These have been the City's "trademark events" for over 30 years, Howard emphasized. How could the City just suddenly eliminate them?
It was an eloquent plea, but eliminate them they did. And I didn't realize until now that when Herman spoke of "trademark events for over 30 years," those events were his own children, being struck down before his eyes.
A week ago today, Howard announced his retirement effective April 1, 2011.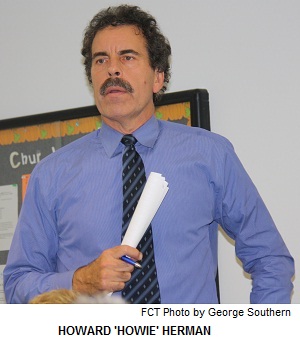 Retirement? Say it's not true! How can someone who has put 40 years into this City's community activities walk away? And besides, no one as youthful looking as Howard Herman should be allowed to retire.
The Little City is taking some big blows this year. Schools Superintendent Lois Berlin is retiring at the end of the school year, and filling her shoes is going to be a very tough job.
I'm in no position to begrudge anyone early retirement, but I can't help but suspect that these two outstanding City servants are a bit discouraged, as well they might be. We're fighting a losing battle on both the Schools and the City administration fronts. And if you follow the official meetings closely, you realize, as they say, that you ain't seen nothing yet. The City's future bodes ill with program cuts and personnel cuts acted out amid a backdrop of turf battles. Who will be the last (wo)man standing?
One consolation: No one is cutting the Farmers Market, and Howie owes it to his fans to continue to show up faithfully, with his jars of honey, for at least the next 25 years. Because we don't want-a bee without Howie.