By William Henneberg
Special to the Falls Church Times
February 6, 2016
Falls Church City is small, a virtual micro-city compared to the neighboring large counties. But within its narrow confines, our micro-city also may house a small and somewhat rare weather feature known as a "microclimate."
The National Weather Service defines a "microclimate" as "the climate of a small area…that may be different from that in the general region." In other words, a microclimate is present when weather patterns exist that are unique to a given area.
The most well-known microclimate type is the "urban microclimate," which is caused by pavement, buildings, and dense development, and leads to what is known as the "urban heat island effect." In the Washington area, this explains why the weather station at Reagan National Airport consistently reports warmer observations than the more vegetated suburbs only a few miles away (particularly at night). In Falls Church, too, the climate of the more urbanized areas (warmer) differs from that of the green spaces (cooler) and that is where this analysis begins: the downtown corridor.
There is no historical temperature record for downtown Falls Church, but evidence for a warmer downtown climate came two summers ago when a thunderstorm popped up over the city. When an area is warmer than its surroundings, the hot air rises and, if the rising parcel of air can sustain itself (with enough moisture present), a "heat island thunderstorm" can develop. This seems to have been the case on August 2nd, 2014, as a storm initiated over the most urban (and likely warmest) part of Falls Church, the intersection of Broad and Washington streets.

Radar time sequence of a thunderstorm over Falls Church City, August 2, 2014.
This makes the case for an urban microclimate over the downtown area. But microclimates are not limited to anthropogenic (human) causes. Small elevation changes, which are common throughout the Virginia Piedmont, of which Falls Church is a part, also can influence precipitation and temperature patterns. And there is some temperature data that supports this idea. But first we must take a look at the topography of Falls Church.
The general topography of Northern Virginia is higher elevation to the west (Appalachians and Blue Ridge), sloping downward to the southeast to the Chesapeake Bay and Atlantic Ocean (below, left). Falls Church lies more or less on the "fall line" — where the hilly Piedmont region transitions to the flat Coastal Plain. Far western areas of Falls Church tend to be higher than central and eastern areas (the elevation of Fort Taylor Park, the Koons Ford car dealership, and the Eden Center in East Falls Church is higher but is a small blip compared to the overall downward slope). This helps explain why the August 2nd storm propagated to the west, as the slight upslope tendency may have encouraged continued development towards the northwest (and most of East Falls Church never saw a drop of rain).
Topography of Northern Virginia and Falls Church. Note the elevation decrease from northwest to southeast. Red dots on the Falls Church image indicate the location of two weather stations. The East Falls Church station is at 317 feet while the West Falls Church station is at 387 feet.
During the August 2nd event, western Falls Church would have ended up much cooler than the east due to the storms, and not necessarily because of a microclimate, making the analysis tricky. But can small elevation changes alone influence the temperature, independent of rain?
Shenandoah National Park, 65 miles away, is filled with examples of natural, topographically induced microclimates. A 2007 climate summary identified temperature changes between even small hills and valleys in the park. On clear, calm nights, cold and denser air flows to lower elevations in the valleys. This "cold air pooling" can shorten the growing season for lower elevations (and explains why Thomas Jefferson was able to grow artichokes at Monticello, on top of a hill).
At other times, however, adiabatic cooling (decreasing temperatures with increasing elevation) dominates, and higher elevations are cooler than the surrounding valleys. In other words, pressure and temperature are proportional — so the higher surface pressure at lower elevations increases temperatures. That is known as "compressional warming."
Here in Falls Church, data from two privately-owned weather stations reproduce these natural microclimate phenomena at a smaller scale. The table below shows monthly data from a station in far western Falls Church (elevation of 387 feet) and one in East Falls Church (elevation of 317 feet). Note that during the winter and summer months (January and July), the East Falls Church station (EFC) is warmer.
During these months, prevailing westerly winds dominate, the air is well-mixed and adiabatic cooling/compressional warming keep the higher elevations cooler and the lower elevations warmer. During the "transition seasons" of fall (October) and spring (March), however, the wind direction is much more variable and the westerlies do not always dominate. The compressional warming is limited and instead, the colder, denser air masses can find their way to lower elevations in the middle and eastern parts of the city, similar to the "cold pooling" that occurs in the Shenandoah Valley. Higher elevations of West Falls Church can actually be warmer than lower elevations.

Temperature data from two station sites depicted as AvgTemp./Monthly High/Monthly Low (°F). Red text indicates the warmer station and * denotes incomplete data.
With no official threshold, there is no set standard for how "different" the climate must be from the surrounding region to constitute a true microclimate. In the situations mentioned here, it ranges from a few tenths of a degree to several degrees on any given day (keeping in mind the data is too sparse spatially and temporally to make a statistical significance analysis).
Nonetheless, there appear to be three microclimates within the Little City: the downtown corridor, which is likely the warmest spot year round; the lower elevations in central and east Falls Church, which seem to be distinct from the higher elevations in west Falls Church (and Mount Taylor in East Falls Church) depending on the prevailing wind conditions (below).
Interestingly enough, the Washington & Old Dominion Trail goes through all three areas, so, the next time you're riding, running, or walking through the City, you may just be able to notice a little bit of each.

Microclimates of Falls Church. Blue – the higher elevations of Falls Church, Black – lower elevations of central and eastern Falls Church, Red – downtown urban corridor.
William Henneberg is a lifelong resident of Falls Church City. He holds a Master's degree in Meteorology from Plymouth State University in Plymouth, N.H. He currently works as an operational meteorologist for Commodity Weather Group, LLC, in Bethesda.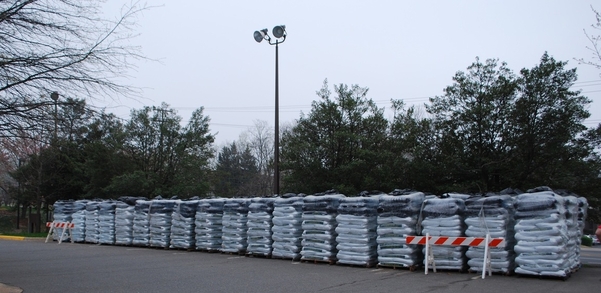 Special to the Falls Church Times
March 4, 2015

For the past 22 years, the George Mason High School Athletic Boosters Association has sponsored a spring mulch sale, with proceeds helping meet the school's athletics program's pressing needs, including equipment purchases. Student athletes from all spring sports donate their time on a Saturday morning to load and deliver mulch to homes throughout the Falls Church area.
"This is like an old fashioned barn-raising," said Robert Donovan, one of the event's coordinators. "We have parents volunteering as drivers and a parking lot full of kids helping load the bags and head out for deliveries. Everybody participates."
Steve Selby, Chair
Recreation & Parks Advisory Board
February 11, 2015

I enjoyed Mr. Siegel's February 9 article on West End Park and appreciate the Times' continued coverage of important local developments. As you point out, West End Park is undergoing a significant transformation.  The product of a decade of planning and community discussion, the new West End park will be a "signature" component of the City's increasingly connected network of parks.  While not the largest of our parks, it might be the most visible.  With additional amenities and a new entrance on Broad Street, this transformed park will be attractive to residents and visitors alike.
The park combines many features important to our community.  The expansion will add arbor-like qualities with places for quiet reflection as well as additional walking trails.  Including skateboard features while ensuring other uses for that section of the park was the product of many robust discussions with the community.
Parks of course have value simply as places for recreation and quiet reflection.  They also provide important environmental enhancements, such as improved air and water quality.  And, from every study I've seen, they make communities more liveable, while making them more attractive places to do business.  A more accessible park with improved amenities, combined with an attractive, easily-visible sign saying, in effect, "Here we are: Stop in for a visit" will make that corner of the City much more attractive.
The long effort to bring this project from vision to reality is a testament to the hard work of the City's talented staff, but also a reflection of the constructive input from countless residents and the steadfast support of our elected officials.
You're going to like the new West End Park.
Special to the Falls Church Times
June 30, 2014
Cherry Hill Park was dancing and singing to the Blues during a wonderful day at the 20th anniversary Tinner Hill Blues Festival on June 14. Thanks to the generosity of Raymond Henderson and the Henderson Photo Group we have a set of photos to help you remember the day.  (All photos copyright Henderson Photo Group 2014). Read more
Special to the Falls Church Times
June 13, 2014
Who would have thought that Falls Church, Virginia is the home of the Blues? The Tinner Hill Heritage Foundation, working with the State Theatre, and other local supporters is working to make the Little City the blues capital of Northern Virginia.  For five days we will have the best talent in the county in Falls Church in the spectacular Tinner Hill Blues Festival!
The State Theatre started things off earlier this week with two big shows — Buddy Guy on Tuesday and Leon Russell on Thursday.  Tonight they host Shemekia Copeland.
Saturday, June 14 will be the highlight.  Branded "Blues, BBQ and Brew" it will be a full day of BBQ, locally brewed Beer from Mad Fox Brewing and live Blues. National and regional acts including Teeny Tucker, Mississippi Heat, Baatin, Tom Principato, Cathy Ponton King, David Cole, Michael Roach, Ursula Ricks will perform in beautiful tree-shaded Cherry Hill Park. There will be vendors, contests, demonstrations, Big Daddy's BBQ, Fisherman's Cafe Soul Food, Casey's Cake Pop's, soft ice cream.
But wait there's more. Live blues music all over town, all weekend, a library with kids blues book, readings, restaurants, Shop till You're Blue at the Flea Market frenzy, farmers market with early bird blues, and a rare music film fest — all to celebrate the Tinner Hill Heritage Foundation, a non-profit that honors civil rights history in Falls Church, as well as Piedmont Blues icon John Jackson.
The festival is put on with support from local businesses and the city. Volunteers include students, city workers, elected officials, city council people, and seniors.
Saturday's entertainment at Cherry Hill Park starts at noon and runs until 8pm.  General seating tickets are $15 in advance and $20 at the gate.  While VIP seats are $25 or $30 at the gate.  Children under 12 are free.
By Steve Selby
Special to the Falls Church Times
May 28, 2014
It was not time for sports clichés: "You gave it your best;" or "You can't win 'em all;" or even "There's always next year."  No, no one wanted to say anything like that to the talented group of Mason varsity baseball players who had just lost a heart-breaker to Madison County in the opening round of playoffs. In an exciting game played on Memorial Day, the Mustangs came up short, and the fantastic roller-coaster of a season ended too soon.  With a 6-5 loss to Madison County, dreams of moving on in the playoffs, perhaps making the regional tournament, were dashed. The disappointed squad was left with the mundane chores of cleaning up the field, raking the mound, storing the gear – the kinds of chores you can do when your mind and heart are elsewhere.
Going into the game, the Mustangs knew that the #7 seed given to the Mountaineers was not a reflection of their ability or a true representation of their season.  Mason's two regular season wins over the Mountaineers were by one and two runs. Mustang players were very aware that Madison had plenty of pop in its offense, as well as good pitching and defense.  They also knew that seven of Madison's Bull Run District losses came on a total of nine runs. And, they were aware that two of those close losses had come against eventual Bull Run District champs Strasburg.  No, this was not a classic #2 vs. #7. This was a battle of equals, with perhaps a bit of an edge going to the Mountaineers who, as the sports cliché goes, had "nothing to lose." Read more
Special to the Falls Church Times
May 28, 2014
The Mason JV baseball team finished its season with a 12-3-1 record closing their season with a no-hitter against Strasburg High School.
By Steve Selby
Special to the Falls Church Times
May 22, 2014
The George Mason Varsity baseball team closed out its regular season play with three tough games in five days, facing Strasburg twice and wrapping up against William Monroe on Wednesday.  And, when Monroe's slugger Keegan Woolford led off Wednesday's game with a blast that nearly took out a window on a bus parked out beyond the right field fence, it did not look good for the home team.  But, the ball fell just foul.  And, although Monroe would manage to score a couple of runs in the game's opening frame, the Mustangs played solid defense, generated timely offense, and got strong performances from their pitchers to prevail in a well-played 5-4 victory over their Greene County opponents.
Monroe arrived with a 17-2 record, with narrow loses to Central and Strasburg marring their otherwise perfect record. They shut-out Mason in the teams' earlier meeting in Standardsville and arrived looking to improve their record going into the playoffs. Coach Mike Maynard's squad brings sound fundamentals, plentiful power, good pitching and a starting lineup with several all-district players. Like Mason, they are a young team. This dramatic contest was a harbinger of more good contests to come between rivals who clearly respect each other and relish the chance to compete.
After Woolford's long foul ball scattered some dirt in the parking lot, he would reach base and eventually come around to score on a single by Jeffrey Early. A double by Dylan Shifflett would give Monroe a 2-0 lead heading into the bottom of the first.  After a weather-related delay of 30 minutes, Mason came up to bat. Although a hustling Marsden Davis managed an infield hit, the Mustangs were unable to generate any additional offense.
Mason's starting pitcher, senior Grant Hagler, retired the side in order in the top of the second.  Mason got a single from senior Connor Rhodes in the bottom of the inning, but could not get on the board. In the top of the third, Woolford led off with a double. Then, as they have all season, the Mustangs used good defensive plays to keep things in check. On a bunt by Tobey Collier, Marsden Davis pounced quickly on the ball and fired to second baseman Logan Nesson covering at first. Nesson made a nifty pick to get the first out. Shortstop Chris Meador then made a fine catch down the line in left field on a pop up.  A sharp line out to center fielder Evan Davis would close out the inning, keeping the score 2-0 for Monroe. Mason would threaten in the third when Nesson singled, Zach Lang was hit by a pitch and Meador followed with single.  But Monroe's defense would hold, leaving Mason scoreless going into the fourth.
With Monroe coming to bat in the top of the fourth, Nesson took over for Grant Hagler. A bulwark for Mason's pitching staff all season, Hagler went three innings, allowing three hits and no earned runs, while striking out one and issuing no walks.  Although Monroe would manage to load the bases, Nesson struck out the menacing Woolford to close out the inning.
In the bottom of the fourth inning, the Mustangs' offense began to click on all cylinders. Evan Davis led off with a double, moving to third on a single by Daniel Butler. After Hagler's infield hit scored Davis, Gabe Terry singled sharply to center. With the bases now loaded, Nesson worked a walk to force in another run, gaining an RBI and tying the score. Zach Lang's sacrifice fly would make it 3-2 Mason and a Monroe error would give Mason a 4-2 lead heading into the fifth inning.
Mason's defense was on display again in the fifth.  After a single and strike out, Jake Abruzzi made a nice play at second to record the second out. On the next play, Meador charged quickly, grabbed the ball on a tricky bounce and fired to first to nip the runner and close out Monroe.
Monroe would draw closer in the sixth inning. Benjamin Bohlman reached first on an infield hit, just beating the throw by Meador on a bang-bang play at first. On a fielder's choice, he would advance all the way to third. A sacrifice fly by Trevillian would make it 4-3 Mason. Hagler made a nice play on a grounder to third, closing out the Dragons. In the home half of the inning, Hagler and Terry each singled. After Nesson walked, Meador would also draw a free pass, making it 5-3 Mason.
Going into the seventh inning, everyone at the game knew that protecting a two-run lead against a team with as many good hitters as Monroe would not be an easy task. Woolford grounded out to Abruzzi for the first out. With two strikes on Collier, time was called by the home plate umpire. As if the tight game needed additional drama, play was halted for what seemed like an eternity, while frantic fans tried to communicate with the driver of an idling car in the upper lot, whose lights were shining brightly right into home plate.
When play finally resumed, Collier would single. Trey Lam followed with a single and a walk loaded the bases. On a grounder hit sharply to his right, a diving Terry would field the ball and toss to Nesson on a close play at first. A run scored on the play, making it 5-4 Mason. With the tying run 90 feet away, Mason's faithful followers were starting to look for the smelling salts. But a sharply hit ball was fielded by Abruzzi who threw to Terry to end the game.
For the victors, Nesson went four innings, giving up seven hits and two earned runs, while walking only one and striking out four. Mason's only seniors, Hagler and Rhodes, each hit safely to celebrate their final regular season games in Mustang uniforms. Strong infield play throughout the evening, backed by solid play in the outfield by Lang, Evan Davis and Sam Selby, once again contributed to a Mason win. As has been the case all season, it was a true team victory.
Mason finished the regular season with a 14- 6 record overall, going 12-4 in Bull Run District play to earn a second seed heading into next week's Conference 35 playoffs. In non-district play Mason defeated Yorktown and John Champe, while losing tough, close games to Broad Run and Wilson.
As the great sports writer Red Smith once said, "Baseball is dull only to dull minds. Today's game is always different from yesterday's game, and tomorrow refreshingly different from today."  It certainly has not been a dull season for this young, dynamic team led by head coach Adam Amerine and assistant coaches Brad Young and Ryan Costa. Again and again, someone has stepped forward to get a timely hit, make a key defensive play, take the extra base, or strike out a batter to get out of a jam.
In each victory, it has been easy to pinpoint significant contributions by virtually the entire lineup. Fans understood that no matter what the situation, this Mustang team was not going to give up.  That spirit has carried the Mustangs to a successful season and positioned them well for next week's playoffs.
Playoffs begin at home on Monday at 6:00 p.m. when Mason will face the #7 seed team.  With a victory, Mason would advance to play on Tuesday, when they would face the winner of the game between the #3 and #6 teams.