The first opportunity for our youth to get introduced to or improve on their current wrestling skills will be at the Falls Church Wrestling Camp which will be held June 25 – June 29, 6:00-8:00 PM in the Husk
y Gym at Mary Ellen Henderson Middle School, for $75 for the week. 8:00 – 8:30 will be available for advanced techniques. Interested parents and wrestlers can email the Club at [email protected].
By: STEVEN VALLEY
June 10th, 2012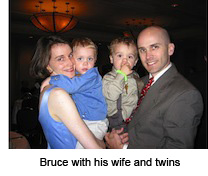 I've know Bruce for over 12 years now.  I was on his team at Microstrategy.  Even during difficult times, he was a motivating and incredibly professional boss.  I enjoyed seeking his advice on any number of issues.  In every one of my interactions with Bruce I was able to see the leader, the friend, and the compassionate person he is. Party politics aside, our district needs a new voice and Bruce is that voice.
I was forwarded the note below, written by someone in our district and it covers all of the points perfectly and really represents the guy I know would be a perfect catalyst for change: Read more
In keeping with the wishes of the late Leonard S. Michalowski, Falls Church Boy Scout Troop 895 has adopted Veterans Commons, located on the Washington and Old Dominion Trail at the junction of Little Falls Street, and has been working to maintain the grounds preserving "Veterans Commons" as a place of beauty that all may enjoy.  In addition, the Troop intends to resume the traditions established by Mr.  Michalowski  by holding early morning flag ceremonies at the site on Mem
orial Day and Veteran's Day.

Boys Scouts of Troop 895 completed a 50 mile bike ride as part of their Cycling Merit badge requirements on Sunday May 27th.  To get ahead of the predicted high temperatures, they left early from Falls Church, Mile Marker 7 on the W & OD Bike trail, and rode out to the 32 mile mark and back to complete a full 50 miles.
Sgt. Arnold Rojas, a member of the 316th Sustainment Command (Expeditionary), is promoted to the rank of Staff Sgt. at North Fort
Hood, Texas, June 1. Congratulations to Staff Sgt. Rojas, his family, and a thank you to all of the members of the military who faithfully serve our country.
Read more: http://www.dvidshub.net/image/592557/sgt-arnold-rojas-promoted-rank-staff-sergeant#.T8pFT-2WGPB#ixzz1weiz73AQ
By FALLS CHURCH TIMES STAFF
May 29, 2012
At the 66th Annual Meeting of the National Cartoonists Society (NCS), held at the Green Valley Ranch in Henderson, Nev., Nick Galifianakis won the Reuben Division Award for Advertising Illustration. The contending finalists were Kevin Kallauger and Tom Stiglich.
Born in Durham, NC, and raised in Falls Church, Va, Galifianakis does the cartoon Nick and Zuzu. Since 1997, he has drawn the cartoons f
or the national syndicated advice column Carolyn Hax, formerly known as Tell Me About It. He illustrated the book Tell Me About It: Lying, Sulking, Getting Fat … and 56 Other Things NOT to Do While Looking for Love, authored by Hax in 2001. He has also illustrated a number of books by writer and novelist Andrew Postman, and published his own book, If You Loved Me, You'd Think This Was Cute: Uncomfortably True Cartoons About You.
Nick's father Peter Galifianakis is an accomplished sculptor and painter, and Nick is the first cousin of actor Zach Galifianakis, and his uncle is former U.S. Representative Nick Galifianakis.
The National Cartoonists Society is based in Maitland, Fla., near Orlando.
By VICTORIA KWASIBORSKI
May 28, 2012
The Girl Scout Bronze Award is the highest honor a Junior Girl Scout can receive.  Included in the requirements for Bronze Award is a community service project; toward that requirement, these three Scouts from Troop 4861 collected donations of gently used blankets and linens to be distributed to area animal shelters and hospitals.
Here is an excerpted overview of the award from the GSA's web site:
The Girl Scout Bronze Award is a leadership adventure and the highest honor a Girl Scout Junior can achieve. As you and your team plan and complete your project, you'll develop more confidence, meet new people, and have the kind of fun that happens when you work with other Girl Scouts to make a difference.
Before beginning any work on your Bronze Award, please check with your Girl Scout council to know
your council's transition timeline.
Here is an overview of the requirements to earn the Girl Scout Bronze Award. In order to fully understand what councils expect from girls, please refer to the Bronze Award girl guidelines, the Bronze Award Adult guide, and the FAQs. For further information, please contact your local Girl Scout council.
Girl Scout Bronze Award Pre-Requisites
Girls must be in 4th or 5th grade (or equivalent) and be a registered Girl Scout Junior
AND
Complete a Junior Journey
An Overview to the Girl Scout Bronze Award Steps
Build your Girl Scout Junior team.

Explore your community.

Choose your Girl Scout Bronze Award project.

Make a plan.

Put your plan in motion.

Spread the word.
The girls will receive their award in a ceremony on June 3.
Falls Church – May 2012- After raising the flag at Veterans Common on the W&OD Trail the morning of Memorial Day, Boy Scouts of Troop 895 will join other troops in the George Mason District in honoring our Veterans in National Memorial Park on Memorial Day.
Monday 28th of May is Memorial Day. While there are different claims to the origins of the day it is widely believed that an early Memorial Day was celebrated in 1865 by liberated slaves in Charleston, N.C.  Later, as Decoration Day, it was the day given to commemorate those who fell in the War Between the States. It was not until after the First World War that the last Monday in May was declared a holiday to remember those who have given their lives in all wars.
Across America, the Boy Scouts of American continue to maintain traditional observance of Memorial Day and local
scouts of Falls Church and the George Mason District will be no exception.  At 7.00 am on Monday May 28th,  Boy Scout Troop 895 will hold a flag raising ceremony at Veterans Common to honor of our local veterans and would welcome all who wish to join them. In keeping with the wishes of the late Leonard S. Michalowski, Troop 895 has adopted Veterans Common, which is located on the Washington and Old Dominion Trail at junction of Little Falls Street, and has been working to maintain the grounds preserving it as a place of beauty that all may enjoy.
Later in the morning, Scouts from Troop 895 will join those from other Troops in the George Mason District of the National Capital Area Council to replace the flags at the headstones of our heros in the National Memorial Cemetery on Lee Highway.
The tradition of marking the Veterans graves is one that has been recently revived by Assistant District Commissioner Kurt R. Johnson who wanted to make  Memorial Day more significant and relevant for Scouts and the community alike. All Scouts and Scouters are welcomed to participate this Memorial Day – gathering at 8:30 am in the Cemetery parking lot at 7482 Lee Highway in Falls Church.