BY Ra Chan
October 12, 2012
Special to the Falls Church Times
I would not consider myself a fried chicken connoisseur, but I do love fried chicken, from the fast food variety to the upscale version. I even own a deep fryer so I can make it at home when I've got the urge. So when my husband's cousin mentioned that he was going to Flavor's for some fried chicken, I was very intrigued and wanted to try it out for myself.
I'd definitely describe the restaurant as a hole in the wall type place, it's right off Columbia Pike and if you weren't looking for it, you'd miss it for sure! The interior is set up like a cafeteria and the décor is interesting. But I was there for the food. You actually order at the counter and pay for you meal after you're done. The gentleman behind the counter was actually super helpful in giving his recommendations. I decided to go with a 2 piece dark chicken with collard greens and mac n cheese as my sides. The fried chicken is cooked to order, so there's a little bit of a wait after putting in your order. It took about 30 minutes for our food to be cooked.
When my order was ready, I couldn't believe how home made my dinner looked! It really reminded of a Sunday night family meal. Looking over my plate, I loved how golden brown and crispy my chicken looked and the side orders were generously portioned.  Taking my first bite, I loved the crunch and the perfect seasoning on the chicken. There wasn't too much breading, but just enough to coat and keep the chicken moist. I just had a few squirts of hot sauce over top and my chicken was perfect. There was some greasiness on my plate, but that's from the lard it was deep fried in and since I wasn't really worried about my cholesterol level, devoured every morsel.  The mac n cheese just oozed with cheese and the collard greens reminded me of something you'd find at Grandma's kitchen.
Overall, I was very satisfied with my dinner. The ambiance of the restaurant wasn't that great, but the food definitely made up for it. And if you don't mind smelling like fried chicken after you leave, I'd recommend you stop by Flavor's and try it out.
Flavors Soul Food
3420 Carlyn Hill Dr
Falls Church, VA 22041
(703) 379-4411
http://www.flavorssoulfood.com
Twitter: @flavors01
By Kathleen Nixon
October 5, 2012
Falls Church Times Staff
There is a new place in the community, but not in the Little City, where I have been frequently over the last two weeks. My new favorite snack food is Junk and my new favorite drink is Cupcake. I did one night sustain myself with a Kimchi Dog. And there are also cupcakes.
Do you know where I have been hanging out? Congratulations to "grateful2BinFC" for their correct answer! Angelika Movie Theatre in the Mosaic District.
When the initial press releases came out about the Angelika, I noticed three things: the concept of Angelika, the types of entertainment that would be offered there and that they had partnered with a celebrity chef.
A celebrity chef for a movie theater? I was intrigued.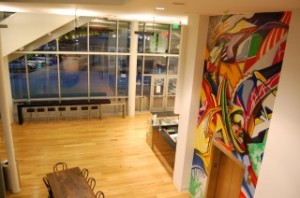 Angelika has created an entertainment brand around making going to the movies a unique and elegant experience. One that is derived from an all around sensory experience rather than just some place to plop down for a few hours and gorge on popcorn. The lobby greets you with sleek concrete, glass and steel that makes you feel more like you are going to a museum in New York rather than the new movie theater where the old one used to be. Once inside, you have three levels to enjoy eating, movie watching or sunset gazing.
Your first eating adventure is a mixture of cupcakes, coffee and beers on tap. On one occasion the cupcake and coffee café was filled with folks just enjoying the environs and the treats without realizing that they could also go upstairs to watch a movie.
At the main concession stand, you have such a wide selection of treats and beverages that I recommend getting there early because you will have a difficult time deciding what you will want to enjoy. At Angelika, your standard movie fare has a definite twist. Your beverage selection includes your usual soft drinks but these are pour your own from a soda fountain machine. This allows me my favorite drink combo – Diet Coke mixed with Barq's Root Beer. There is a selection of beers on tap: Port City Optimal Wit, Great Lakes Dortmunder Gold, Bell's Amber Ale, Lagunitas IPA as well as a fine selection of bottle beers. My guests were quite fond of the Port City Optimal Wit and the Lagunitas IPA. I have fallen in love with the Cupcake Prosecco and it is hard to sway me away from this. The Prosecco is smooth and light, not overly sweet. Yes, you can take these into the movie theater with you in a plastic cup.
If you have a difficult time deciding which meals to pair with the beverages there are several suggestions on the menu which include the Black Forest Ham and St Andre Sandwich recommended with the Michael David Seven Heavenly Chardonnay or the Bell's Amber Ale. Or you might like the Wasabi Chicken Breast Sandwich with the Dona Paula Malbec or Great Lakes Dortmunder Gold.
The other "food" is what you would expect at a movie theater – dogs, popcorn and nachos but with an upscale take. The nachos are blue corn chips, with your selection of toppings. The hot dogs – there are three choices – Kimchi, Mexi Cali or BLT. The Kimchi seems to be the favorite with Kimchi, and sautéed green onions. The piece de resistances are the popcorns that offered with different flavors with my favorite being Beer and Cheddar. However there is one more popcorn delicacy that bears special mention: the Angelika Junk.
Junk includes popcorn, pretzels, potato chips, Rice Krispy treats drizzled with caramel and chocolate sauce. And bacon. Yes, bacon! Now while this may not sound like something you would enjoy, trust me you will.
On my frequent trips over the last few weeks, I have ended up with Cupcake Prosecco and Junk either as my main movie snack or for the post movie snack up in the Lounge. The Lounge is on the third floor and has a great view toward the west. Now this can mean a great sunset or watching an approaching lightening storm, or gazing at the huge cell tower left over from the previous development.
The concession staff is still working out the kinks of getting to know the offerings and working with customers. The one complaint I have is that most of the food – hot dogs, nachos and sometimes the popcorn- is room temperature rather than hot.
In mulling over the movie going experience with friends, we still give the Angelika thumbs up as a great experience. You will pay more for the movie ($13) and for the refreshments (Junk $10) than you would at a regular movie theater, but I would rather enjoy a nice glass of Prosecco and a yummy treat than gorging on stale popcorn coated with who knows what washed down with a soft drink for just a little less. A colleague ventured away from his beloved E Street Cinema to join me on one of my ventures. He frequently ( 3 times a week) goes to the movies at the last minute, usually counting on the movie fare for dinner. He said he would really love knowing that his evening meal would be of the quality and variety that he found at Angelika, with great beer, nachos and hot dogs rather than what he usually has to settle on.
On an entertainment note, I do "love" the aspect of an independent movie theater closer than E Street or Shirlington and was quite plussed when several DC reporters and film goers at the Press Opening commented that this community "didn't deserve this theater". Touting the education, income and cultural aspects of the surrounding communities, I did politely correct them that we not only deserved this entertainment venue, but it will thrive in our community. I have truly enjoyed being able to watch Bill Murray and Laura Linney in Hyde Park on Hudson ( sneak preview, coming out in December), Samsara which is all visual images, Hello I Must Be Going, a quirky comedy, and The Perks of Being a Wallflower, a coming of age comedy drama. In the future I am looking forward to 7 Psychopaths with Woody Harrelson and Argo with Ben Affleck, not to mention the several other great film expositions that will be coming to town. There are CryBaby morning, Student nights and Baby Boomer specials listed on the website.
Angelika at Mosaic
Lee Highway at Gallows Road – behind the soon to open Target
By Kathleen Nixon
September 28, 2012
Falls Church Times Staff
There is a new place in the community, but not in the Little City, where I have been frequently over the last two weeks. My new favorite snack food is Junk and my new favorite drink is Cupcake. I did one night sustain myself with a Kimchi Dog. And there are also cupcakes.
Do you know where I have been hanging out?
Answer will come next week!
BY Kathleen Nixon
August 24, 2012
Falls Church Times Staff
I love road trips. Just get in the car and get away! For me the kicking off for any road trip used to be a stop at the gas station to fill up on petrol, Cheetos and root beer, but now things are a bit different. I don't succumb to the fast food traps that inevitably happen on a road trip.  You know the ones I am talking about – the quest to get somewhere quickly, only to get caught in traffic or with your favorite place with a long line or worse, not even open.  Cranky hunger pains settle in and threaten to ruin any get away plans.
While I frequently pass through Maryland and Pennsylvania, I rarely stop at a restaurant as I want to put as much mileage between me and the Capitol Beltway as possible.  On a rare occasion, we will stop at the Cracker Barrel in Wilkes Barre but more than likely will hit the drive thru Starbucks next door. The beauty I find in Pennsylvania and New York are there are many rest stops with gorgeous views that are the perfect setting for a picnic, so the cooler is usually packed with great items to enjoy while sitting at a picnic bench.  By the time I am in the beginning of upstate New York, my hunger for a sit down meal is more pressing than a rest stop.
In the Hudson area, my two food destination stops are Mexican Radio and Baba Louie's. Mexican Radio is the outpost of its sister restaurant in New York City and Baba Louie's has two other restaurants in the area in Great Barrington, MA and Pittsfield.   Mexican Radios' décor is so much fun and creative building upon the Day of the Dead theme with a Haight Ashbury twist. You are mesmerized by the creative combinations that adorn the walls, and ceiling. Their drink menu is extensive focusing on killer margaritas that take the edge off of any 600 mile trip.  Many of their dishes are vegetarian and gluten free. Each time there, I have always had the specials as they are intriguing and satisfying. Most recently a chicken enchilada topped with a raspberry salsa. Spicy and sweet, and definitely not your store bought Mexican fare.  And being from California, my husband and I have had some great and not so great Mexican meals. Mexican Radio is as good as the best we have had in California.
Mexican Radio
537 Warren Street
Hudson, New York 12534
<a href="http://mexrad.com/">http://mexrad.com/</a>
Baba Louie's is primarily a pizza place and the pizza is really good. There is a great beer and wine list. The selection of lunch and dinner entrees that include salads, pastas and pizzas (gluten free) are enough to satisfy any traveler. The pizzas can be ordered to go which helped us out one night when traffic delayed us significantly.
Baba Louie's
517 Warren Street
Hudson New York 12534
<a href="http://www.babalouiespizza.com/">http://www.babalouiespizza.com/</a>
When we are planning to stay overnight along the way, we find hotels that are pet friendly and have good restaurants. For the last several years, our stops have been at Hotel Indigo near the Albany Airport and in Beechwood Hotel Worcester Massachusetts.  The Hotel Indigo is a cute, modern hotel with art deco interiors and the Blu Stone Bistro right off the main lobby. Good wine list and selection of creatively created dishes featuring local seasonal ingredients.
Hotel Indigo Albany Airport
254 Old Wolf Road
Albany, NY 12110
<a href="http://www.hotelindigo.com">http://www.hotelindigo.com</a>
Blu Stone Bistro
<a href="http://www.blustonebistro.com/dnn/">http://www.blustonebistro.com/dnn/</a>
The Beechwood Hotel is a little bit off the Massachusetts Turnpike and a great place to stop on your way to points north. The hotel is comfortable, clean and very charming and serves as the conference hotel for many of the teaching hospitals in the area. The restaurant, Ceres Bistro, features steak and seafood along with local seasonal fare.
Beechwood Hotel
363 Plantation Street
Worcester, Massachusetts 01605
<a href="http://www.beechwoodhotel.com/">http://www.beechwoodhotel.com/</a>
Ceres Bistro
<a href="http://www.ceresbistro.com/">http://www.ceresbistro.com/</a>
My fellow Falls Church Times contributor, Christianna Sargent, shared some of her places to stop along the road.  Christianna's go to place in Warrenton for a pit-stop on the road is Iron Bridge Wine Company for a relaxed wine bar atmosphere intermingled with a quaint dining room. Food is fabulous with an excellent, fair-priced wine list
The Iron Bridge Wine Company
29 Main Street,
Warrenton, VA
<a href="http://www.ironbridgewines.com/">http://www.ironbridgewines.com/</a>
Another big road stop for us (usually returning from Roanoke, VA where my parents live) is Trummer's on Main in Clifton. You can take your kids to the bar/lounge where they have a phenomenal cheese plate, lite fare, or a full on dinner with a mixologist at the bar and a sommelier at your service.
Trummer's on Main
7134 Main Street,
Clifton, VA
<a href="http://trummersonmain.com/">http://trummersonmain.com/</a>
In Charlottesville the pit stops I would have to say are right of 64 at the foot of Afton Mountain where Route 250 crosses Route 64. There is this gorgeous eclectic country store called Greenwood Gourmet-it's a full on wine shop of mostly Virginia wines but more, with an awesome Boar's Head delicatessen with all sorts of gourmet snacks and trinkets made locally and jams, jellies, canned goods, etc.
Greenwood Gourmet
6701 Rockfish Gap Turnpike
Crozet, VA 22932
<a href="http://www.greenwoodgourmet.com">http://www.greenwoodgourmet.com</a>
What is your favorite place to stop at or go to on a road trip?
BY Ra Chan
August 3, 2012
Special to the Falls Church Times
Over Memorial Day weekend, I received my copy of the Washingtonian Magazine and the featured article was "100 Cheap Eats". Flipping straight to the Asian cuisine section, my eye was immediately drawn to the little blurb about Hong Kong Pearl. I remember seeing this place mentioned several times in my Twitter feed, and with it down the street at Seven Corners, I couldn't think of a better Sunday lunch than dim sum!
Heading there around noon was probably not the smartest decision, since that tends to be peak dim sum time, but we didn't have to wait long for a table to be ready. The space was pretty massive and it was packed, but being only a party of 2, we were seated pretty quickly! Our waiter was very attentive while we waited for the carts of steaming dim sum to come by our table. We of course started with the usual to see how it compared to our other favorite dim sum spots: shumai, hai gow, stir fry egg noodles, chicken feet, crispy pork and duck.
All in all, the dim sum here was very decent. I loved the portions of the shumai and hai gow, they were larger than most places and stuffed to the brim with the delicious filling. I fell in love with the egg noodles here. I think next time, I'd resist ordering the duck and pork again, they were delicious, but probably not something I should have at every dim sum outing! The selection wasn't as great as China Garden or Fortune, so I was disappointed in that, but it had my normal go-to items, including my favorite sesame seed balls and pineapple buns. And the pricing was great! For 2 people, we only had a $40 bill, which was amazing in my book! I'd like to think of Hong Kong Pearl as a pretty good alternative to China Garden and I don't have to wait an extremely long time to get seated and devour some of my favorite dim sum dishes!
Hong Kong Pearl Seafood Restaurant
286 Arlington Blvd
Falls Church, VA 22044
(703) 237-1388
By Kathleen Nixon
July 27, 2012
Falls Church Times Staff
At a recent Falls Church Farmers Market Chef demo, a program favorite Willow Restaurant demonstrated something different – gluten free products.  Gluten is a protein found in wheat and other grain species such as rye and barley. Unfortunately there are many people who are sensitive to gluten and have to restrict their diets to not ingest any gluten. For some, the gluten sensitive is so severe due to having Celiac disease, an autoimmune disorder of the small intestine.
Willow has always been sensitive to their patrons who are sensitive to gluten and have provided many of their dishes gluten free. At the Farmers Market Chef demo, the team prepared potato gnocchi topped with sautéed zucchini, roasted tomatoes topped with parmesan cheese and toasted quinoa. The response was overwhelming to not only the recipes and the tastes but also to the other products the team had baked earlier in the morning to include chocolate chip cookies, granola bars and bread. All items sold out very quickly.
A few weeks before the demonstration, chef and co-owner Tracy O'Grady answered a few questions about why she and her partners have decided to provide more gluten free items including retail items.
Why Gluten Free?
Our business partner Julie Mounts' husband was very ill due to Celiac disease and we've noticed that many other people have gluten issues. There are not a lot of choices for folks that suffer from this so we thought we could develop something that is very high quality.
Why develop another line of business during a down economy?
We feel there is a strong need for this line of business and not many chefs are doing this kind of work.
What have you been doing to create these recipes? Who are your local sources for the ingredients?
We've been making changes to our existing menu to make some of the products gluten free so that other people will not even recognize the difference.  Part of our goal is to make these products so good people who can eat and enjoy gluten products will like our gluten free products just as well.  We do use many local ingredients but unfortunately many of the special flours needed for gluten free baking are unavailable locally, this may change we are not sure.  The most important thing right now is sourcing the flours from certified gluten free facilities.
You have always had gluten free in your restaurant, haven't you? What have you had?
We have always had some gluten free options like our crispy quinoa and quinoa cakes.  Now we are very close to having gluten free bread (not brick heavy) and an excellent flatbread that is not laden with chick pea flour.
What are your plans for the mixes? Will they be available for purchase at the restaurant or anywhere else?
We are still in the process of developing our gluten free mixes so home cooks can make something tasty and not have to rely on a restaurant. These mixes are probably 2 months out and we will begin by selling them at farmers markets as a test market to see how they work for the general public.
What are the different gluten free products that you will be producing?
We will be trying to make most of the items gluten free for people who have given up on items like breads, biscuits, pastries, breading's, etc.  Many people I've spoken with have told me that options have been so bad they just have given up on many things they once enjoyed.
Willow Restaurant has a booth at the Ballston Farmers Market on Thursdays from 3pm to 7pm and will be offering their gluten free items there weekly.
By Kathleen Nixon
June 29, 2012
Falls Church Times Staff
As you may have heard there are some dramatic changes that have occurred over at Pizzeria Orso. The new team of chef, Will Artley, and manager, Jonathan Bentley, has elevated Pizzeria Orso to a destination restaurant in the City of Falls Church.
While still some of the best Napoletana pizza in the area, the rest of the menu has been seriously enhanced to create a wide variety of salads, pastas and other great "nosh" items that you might almost forget that you can get a really good pizza.
One of the many great additions to Pizzeria Orso is the Chef's Bar. You now have the opportunity to sit right there, watch all the activity that goes on at the pizza oven, and if he has time, chat with Will. The second best addition to Pizzeria Orso is the tasting menu which is available at any table but seems to be the best way to enjoy the Chef's bar. As each dish comes out, Will or one of his team will explain the dish to you, which is always a surprise and treat. (Caution: do share with the team if you are allergic to anything and they are more than happy to accommodate your dietary needs.)
On one evening I was joined by Christianna Sargent who was not only impressed with the wine selections but recounted several wonderful beers she has had at Pizzeria Orso including a Pumpkin Beer available again in the fall. We were joined by Claire McConnell who provides the wonderful recipes based on local Falls Church Farmers Market ingredients along with their cost.
We started with Baby Carrots and Beets with Ewes Cheese which was delightful in its tanginess as brightness in color. Next up, North Carolina Shrimp with grits which everyone enjoyed except me. I am highly allergic to shrimp, and after chef "reminded" me that when doing a tasting menu you are to alert the chef I was served a delicious Seared scallop with truffle crème and Israeli Cous Cous.
A favorite items of three ladies was the BLT Gnocchi which I had had on a previous trip with some young adults (11 and 13) who joined me on our monthly movie night date. It was definitely a hit with them as well. Our next courses included: Mussels with Bleu Cheese sauce; Romaine, sausage and tagliatelle; and Fava bean ravioli with mushrooms. Another seafood course included sweet corn agnolotti with baby corn and crab (again, I couldn't savor) but which Christianna, Claire and the other members of the Chef's bar all said was a "flavor taste combustion".
While there are now many new favorites at Pizzeria Orso for me and my compatriots, two of particular stand out for me: Brussels Sprout chips which are flash fried and tossed with Parmesan Cheese and the signature dessert dish of lemon glazed doughnuts with Nutella mousse.
Throughout the meal we savored a variety of wines which Christianna was quite enamored with. First we had Volpetti Cesanese from Lazio, Italy which is right outside of Roma. Christianna shares that it was bright, fragrant, with a kiss of French oak and loaded with dark berry fruit, undertones of sapidity – which is Italy's word for minerality and terroir expressed in a wine. Christianna felt that this was a great food pair with pizza and creamy pasta dishes like BLT gnocchi. Our second wine was Feudi di San Marzano Primitivo from Puglia which had intense aromas of plums and cherries that dominate the nose. On the palate, it has a spicy character with hints of rosemary and vanilla. Overall it is full of body, balanced and strong. We were there on a Wednesday evening, which is half price bottle night.
A restaurant may have great food but if it doesn't have great service, you may sometimes never see the great food. My compliments to Chef Will Artley for his command and training of the wait staff at Orso.   There is definite snap to the staff's step and is a good complement to his great food.
I have been back several times because Pizzeria Orso has a lovely patio and it is a great spot to dine with your well behaved pooch. My well mannered Bentley (no relation to the manager) particularly likes the pizza crusts as a treat if he has behaved well throughout the evening.
We look forward to seeing more of Pizzeria Orso in the community and to Chef Will Artley's demonstration at the Falls Church Market Chef on August 18th.
By KATHLEEN NIXON
Falls Church Times Staff
June 22, 2012
In any business there are the folks you know you can count on. In the local restaurant community, it is commonly agreed that Steve Mannino is one of the folks you can count on.  Recently, a local culinary program cancelled for the Farmers Market Chef demonstration, and even though Steve had just taken over the culinary helm at American Tap Room, when called he stepped up.
Mishap after mishap plagued the launching of the demonstration on a gorgeous summer morning, but Steve and his team are well versed in turning things around. Steve was recruited to the American Tap Room collection of restaurants to build a team and take the restaurants to the next level. After watching Steve acknowledge, and embrace each challenge of the morning which looked more like a reality show gone badly or Candid Camera and turn the entire event around on a dime, you know he will do a spectacular job with American Tap Room.