By Steve Selby
Special to the Falls Church Times
May 13, 2014
Junior pitcher Evan Davis went the distance as George Mason defeated Clarke County 8-2 on a Monday night home game. The win left Mason with a 10-2 record in Bull Run District play, with four games remaining in the regular season.
The Falcons jumped out to a quick lead in the first inning. Jordon Turner drew a walk, advancing to second on a sacrifice bunt by Connor Liggett, and to third on an infield single by Jarrett Sowder. Turner would score on a grounder to first, making it 1-0 Clarke.
In the Mustang half of the inning, Chris Meador was aboard on a fielder's choice and Marsden Davis was then hit by a pitch. After both runners advanced on a passed ball, Evan Davis singled them home, advancing to second on the throw. Davis would come around to score when Daniel Butler blasted a drive to deep left center field, giving the Mustangs a 3-1 lead heading into the second inning. Read more
By Steve Selby
Special to the Falls Church Times
May 10, 2014
On Friday night, freshman Zach Lang pitched a complete game victory, giving visiting George Mason a 7-3 win over Manassas Park.  Lang faced Manassas Park's senior Chris Hoffa in a tense duel, with the game into extra innings before Mason would finally break it open in the top of eighth inning.
Although Manassas Park entered last night's game without a win in the Bull Run District, they had played many close games, losing several by just one run.  In an earlier contest against Mason, the Cougars led most of the game until a late-inning comeback by Mustangs.  And, on their senior night, the determined Cougars came within a whisker of pulling off an upset.
Making his first start for the Mustangs, Lang demonstrated the poise of a veteran.  In a remarkable performance, Lang gave up eight hits, while striking out three, walking only one and allowing no earned runs. He was consistently around the plate, throwing 24 first-pitch strikes to the 33 batters he faced.  Lang benefited from strong defense, notably Chris Meador who seemed to end every inning with a sparkling play at shortstop.  Hoffa was equally formidable on the mound for the Cougars. Through the first seven innings he allowed only four hits by Mason, striking out nine Mustangs for the game.
Hoffa hit Mason's lead-off hitter, Sam Selby, but quickly picked him off first base before striking out Meador and Marsden Davis.  With one out in the bottom of the first, Lang gave up a double to Hoffa, but retired the side on fly balls to center. Mason would take advantage of Cougar errors to build a 2-0 lead in the second.  With one out, Daniel Butler cracked a single. After Grant Hagler flew out, Gabe Terry singled to keep the inning alive.  When the ball was bobbled in left field, Butler advanced to third and Terry to second. Another infield error by the Cougars allowed both runners to score.
Manassas Park threatened in the third, when with one out, Robby Ratchford and Hoffa singled. But a slick 6-4-3 double play (Meador to Logan Davis to Terry) ended the inning.
After Mason went down in order in the top of the fourth, the Cougars would get on the board in the bottom of the inning.  Corey Jenkins singled and advanced to second on a ground out to first, moving to third on a single by Felix Sheard.  A single to left by Michel Zurn scored Jenkins, but Sheard was cut down on a throw from Selby to Hagler in a close play at third base. A ground out to Meador closed the inning before more damage could be done.  With the score now 2-1, Hoffa set down the Mustangs in order in the top of the fifth.  Manassas Park would open up a lead in the bottom of the inning , when a walk, single and a Mason error led to two runs crossing the plate, giving the Cougars a 3-2 lead.
Mason would quickly tie the score at 3-3 in the sixth inning.  With two outs, Evan Davis reached base on an infield error, advancing to second base on the throw.  Butler promptly singled him home, tying the game and setting the stage for another dramatic finish for the Mustangs. Looking as strong as ever, Lang quickly retired the Cougars in the seventh, aided by a nice running catch by Justin Trainor in left and two good plays by Meador.
The sleepy Mason offense woke up with a bang in the eighth inning.  Leading off, Meador was quickly behind in the count, 0-2.  But, on a high heater from Hoffa, Meador ripped a shot to right center, racing all the way to third base.  Mardsen Davis grounded out, getting an RBI as Meador came home. Evan Davis promptly blasted a double, stole third and raced home on a passed ball, making it 5-3 Mason.  After a walk issued by Hoffa, pinch runner Davis Hagigh stole second and scored on a single by Hagler, who advanced to second on the throw.  Hagler moved to third on a passed ball and then scored on Gabe Terry's sharp single to left, giving the Mustangs a 7-3 lead. Hoffa then got the last two batters on strikeouts, bringing up the Cougars for one more try against Lang.
All eyes were on the freshman Lang to see if he could close out the game.  The answer came quickly. With one out, Lang allowed a single to Corey Jenkins.  After a pop out to Hagler, another ground out to Meador closed out the Cougars, giving Mason its ninth win against only two losses in Bull Run District play.
On Monday at 7 p.m, Mason will battle Clarke County in the first of three home games in the week. After facing Rappahannock on Tuesday, Mason welcomes District power house Strasburg on Thursday.  The Mustangs will conclude the regular season at Strasburg on May 19 and at home against Monroe on May 21.
This spring's wet weather caused a backlog of postponed games, resulting in the Bull Run District tournament not being played.  Instead, attention will be focused on the Conference Tournament scheduled to begin the week of May 26.  With the recent realignment of the state's high school athletic conferences, Mason is now a 2A team playing in Conference 35.
Under that realignment, a number of teams from the Bull Run District move into different conferences for the playoffs.  So, for example, Mason would not see Monroe, Central, Manassas Park, Warren or Rappahannock. In addition to Mason, Conference 35 includes familiar foes Strasburg, Clarke and Madison, as well as Luray, Page County and Stonewall Jackson.
With its pitching depth, strong defense and scrappy offense, Mason is positioning itself well for the post season.  But, as Mustang fans know, the route will not be easy.
By Steve Selby
Special to the Falls Church Times
May 8, 2014
As the tired but happy George Mason fans trudged up the hill to the parking lot last night, one of them was heard to say, "It's a good thing they started this game at 6:00."  And, indeed it was, as Mason and Warren County waged an epic, 13-inning battle, lasting more than three hours, finally ending on a walk-off hit by Chris Meador to clinch the victory for the Mustangs.  Mason managed to tie the score at 3-3 in the seventh inning, sending the game into extra innings.  And, for the next five, tense innings, neither team could score.  It was an exciting game and a dramatic win for Mason, especially coming after the heart-breaking loss to Central the previous night.
After both teams went quietly in the first inning, Warren got on the board in the second on a double by Julian Bussells and an RBI single by Robert Rutherford. In the bottom of the second, the Wildcats' Austin King quickly retired the side.  Through two innings, all six Mason hitters had grounded out.  But, Warren's defense would falter in the third inning, with three errors leading to a Mason run, tying the score at 1-1. Read more
By Steve Selby
Special to the Falls Church Times
May 7, 2014
It was déjà vu all over again as the George Mason Mustangs faced the Central Falcons in Woodstock on Tuesday night.  Just as in last year's playoff game against the Falcons, Mason took a narrow lead into the bottom of the 7th, hoping to cling to victory against a tough opponent. And, just as in last year's game, the Falcons loaded the bases with no outs.  Mason prevailed last year, advancing in the playoffs; last night, it was Central's turn to eke out a victory.
Nestled in the Shenandoah Mountains, Central's baseball diamond provides a beautiful setting for a game, with spectacular views of the mountains highlighted by a gorgeous sun set. Unfortunately, the rays from that bright sun cut right across the field into the batter's box.  The umpires delayed the game nearly an hour as the teams waited for the sun to finally sink in the west.  It did.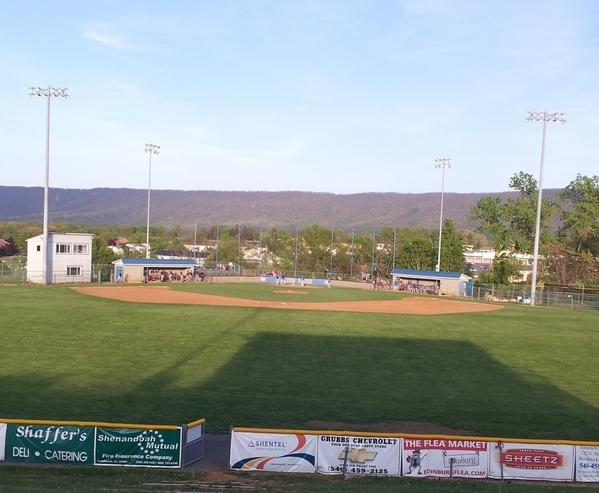 It did not take long for things to get interesting.  Facing the imposing Hayden Bauserman, Central's hard-throwing senior pitcher, Mason stirred things up in the top of the first.  With two outs, Marsden Davis reached base on an infield hit.  After a walk to Chris Meador, Evan Davis singled and a hustling Marsden Davis raced home and, with a nice slide, beat the tag. Daniel Butler quickly followed with another RBI single and the Mustangs took the field holding a 2-0 lead.
With Evan Davis on the mound for the Mustangs, the Falcons were retired quickly in the bottom of the first. Mason went down in order to start the second inning. In the home half of the inning, doubles by Sam Cornman and Cody Polk made it 2-1 Mason.  In the top of the third, Mason again went quietly.  The Falcons tied it up on an infield hit by Zach Herbaugh and a double by Bauserman. Another single by Corman gave the Falcons a 3-2 leading heading into the fourth.
In the top of the fourth, a double by Sam Selby brought home Butler, tying the game at 3-3.  Davis quickly retired the Falcons in the bottom of the inning, allowing only a bunt single. Mason's batters got it going in the top of the 5th.  Marsden Davis led off with a single.  Chris Meador then reached first on a fielder's choice, advancing to second on a bad throw, moving to third on a wild pitch and scoring on an RBI by Evan Davis.  After Daniel Butler blasted a double to right center, Gabe Terry moved him to third on a sharp single to right.  George de Mars then singled to left, bringing home Butler and making it 5-3 Mason.  Selby then singled, but Terry was out at home on a nice play by the Falcons' left fielder, Cody Sager, ending the inning.
Just as the traveling band of Mason fans thought they might catch their breath, Central bounced back to make it 5-4 in top of the fifth. The heavy-hitting Bauserman got another double, coming home on a single by Brandon Paschall.  In the top of the sixth the Falcons held, getting a nice running catch in center field by Jordan Rau on a ball hit by Zach Lang.
After a walk to start off the bottom of the sixth, the Falcons tried a sacrifice bunt. When the ball popped up, Evan Davis raced in to grab it and, while twisting in the air and falling backwards, managed to rifle the throw to first for a spectacular double play.  The next batter went down looking and Mason came up in the 7th looking for some insurance runs.  With two outs, Terry blasted a drive nearly reaching the 375-foot sign in left center, but would remain on second base when Mason could not capitalize on the scoring opportunity.
With Mason protecting a one run lead going into the bottom of the seventh, many fans thought of last year's playoff game on the same field.  In that situation Mason was up 3-1, and the bases were loaded with no outs.  After a sacrifice fly made it 3-2, Mason got the final two outs on fly balls to right field to end the game, moving the Mustangs into the second round of the playoffs.  Last night, in a crazy finish, it was the Falcons' turn, as they managed to manufacture the tying and winning runs on a couple of walks and an infield hit.  It was a dramatic conclusion to a well-played game.
Disappointed by the loss, the Mason squad could take some comfort in knowing that their bats had really come alive.  In any event, there was little time to feel down; the Mustangs will be back on the field tonight at home against visiting Warren County.
Tonight's game has an early start at 6 p.m.

Coach Amerine watches GM's Evan Davis on 3rd base.
By Steve Selby
Special to the Falls Church Times
May 5, 2014
A long layoff and a stubborn opponent combined to slow the George Mason Mustangs and hand visiting Broad Run a 6-3 victory on Friday, May 2.  Broad Run, led by 19-year-veteran coach Patrick Cassidy, is a 5A school with a strong winning tradition, and they were all business against the Mustangs, jumping out to a 2-0 lead in the first inning and never looking back.  A walk, a double and a single were all the Spartans needed to get on the board to start the game.
After going quietly in the bottom of the first, Mason held Broad Run in the second.  A fine catch by shortstop Chris Meador on a pop up down the left field line and nifty play by catcher Marsden Davis to nail a runner at first helped pitcher Grant Hagler retire the side.  The Mustangs loaded the bases in the bottom of the second on a couple of walks and a sharp single to center by Daniel Butler, but the Broad Run held and Mason remained scoreless.
With Meador on the mound in the third, Broad Run went down quickly. After an infield hit, a failed attempt at a sacrifice bunt led to a double play, when Meador grabbed the pop up and fired to first for a double play.  It looked like Mason might get going in the bottom of the inning, but with one runner on base Marsden Davis's scorched line drive was nabbed on a great, leaping grab by Broad Run's short stop to stifle the threat.
Broad Run broke it open in the fourth, combining a walk, double and fielder's choice to make it 3-0.  An RBI bunt single made it 4-0 and another single gave Broad Run a 5-0 lead heading into the home half of the inning.  As they have done all year, the Mustangs began to rally. With two outs, Butler worked a walk and Connor Rhodes singled to right.  In his first appearance in a varsity uniform, sophomore Noah Anderson brought home both runners with a single to right.  Mason added a runner on an infield hit by Sam Selby, but Broad Run closed out the side, taking a 5-2 lead into the fifth inning.
After Broad Run added a run in the top of the fifth, the Mustangs made it 6-3 on an RBI single by Evan Davis. But just when it looked like Mason would launch another one of its dramatic late-inning rallies to seize the lead, Broad Run got a double play on a line out to end the rally.
Broad Run started out the sixth with another single, only to have the runner thrown out trying to steal by catcher Davis.  Mason once again got things moving in the bottom of the sixth, when Kiran Menon, another player making his first appearance with the varsity, singled.  With one out, Hagler singled to left and Zach Lang walked, but Mason again left the bases loaded without scoring.
Broad Run placed two runners on base with one out in the top of the seventh, but Mason turned a nice 6-4-3 double play (Meador to Menon to Butler) to close the doors on any further damage. Although the Mason fans were hoping for one more rally, Broad Run quickly closed out the Mustang batters in the bottom of 7th, hanging on for a 6-3 win.
Last week's rainy weather caused a late season back up in Bull Run District games. As a result, Mason faces a compressed schedule with some tough games against very strong opponents. And the need to make-up games means there will be no District tournament. Instead, teams will go directly to the conference playoffs.  Mason remains in good position for that tournament, with an 8-1 record. But many hurdles remain, including two games against the powerful Strasburg Rams, also 8-1.
This young Mustang team has shown great resilience all year, using quality starts from its frontline pitchers, exceptional defense and timely hitting from the entire lineup, along with a "we're not done yet" attitude, to put together what has been an exceptional season thus far.  But, the most severe test lies ahead.  Starting with a trip to Central Woodstock on Tuesday, Mason will play eight games in 15 days.
Some say sports "builds character."  Others say, no, it "reveals character." Anyone who has watched this exciting Mason team throughout the season knows that it has character….and confidence…and talent.
Hold onto your hats; it's going to be quite a ride.
By Steve Selby
Special to the Falls Church Times
April 23, 2014
Madison, VA – Weather-related postponements led to the unusual situation in which George Mason and Madison County faced-off on consecutive nights this week.  After Monday's dramatic come-from-behind walk-off win by Mason, fans of both teams were expecting a spirited rematch on Tuesday evening.  And they were not disappointed.
With Grant Hagler back on the mound for the Mustang squad, there was every reason to believe he would continue his undefeated streak.  But the Mountaineers, who combine good pitching with some genuine power in their lineup, were eager to turn the tables on Mason.
Although both teams produced base runners, there was no scoring through the first three innings. In the top of the second, Mason generated four hits, but no runs. Evan Davis led off with a line drive single, only to be erased on a 1-6-3 double play. Daniel Butler then singled sharply, Logan Nesson bunted safely and Sam Selby managed an infield hit. But, all were stranded. Madison made some noise of its own in the third, when senior Ashley Weakley singled and a deep fly ball by Dylan Berry looked like it might cause some trouble; but right fielder Zach Lang got a good jump on the ball to haul it in for an out.
Mason got the scoring going in the fourth inning when Gabe Terry reached safely on an infield hit followed by a solid single by Butler. After Nesson's sacrifice bunt moved runners to second and third, Selby got an RBI on a fielder's choice.  Hagler then helped his cause with an RBI single making it 2-0 Mason.  Madison would answer quickly in the bottom of the fourth, as James Graves walked, moving to second on a sacrifice bunt by Collin Shiflett.  After Sam Taylor walked, Cole Smith singled to load the bases. Nic Smith's sacrifice fly made it 2-1 Mason, with runners on second and third. As the Mountaineers appeared poised to add to their total, a nice play by Jake Abruzzi at third ended the rally.
In the fifth inning, both teams were able to load the bases, yet neither could score.  Mason used a single by Marsden Davis, an error and a hit batter to load the bases with one out.  But Madison notched two strike outs to close out the Mustangs.  After Weakley led off with a triple for the Mountaineers, a couple of walks loaded the bases with two outs. But a hard hit grounder to first was secured by Terry, ending the Mountaineers' threat.
As they have done all season, the Mustangs proceeded to combine timely hitting and aggressive base running, while taking advantage of opponents' mistakes to generate additional scoring. With one out in the top of the sixth, Hagler ripped a double to right center, hustling to second to beating a good throw. Then with two outs, a throwing error allowed pinch runner George de Mars to come all the way around to score, making it 3-1 Mason.  With Nesson now on the mound, the Mustangs quickly retired the Mountaineers in the bottom of the inning. The second out came on a great diving stop of a grounder by Abruzzi, with Nesson then retiring the side on a strike out.
Mason would add an insurance run in the seventh when Evan Davis led off with a line drive single, moving to third on a base hit by Terry.  Another Madison throwing error would give Mason a 4-1 lead.  Mason was able to load the bases again, but Madison closed out the inning without further damage.
It looked like it would be clear sailing for Mason in the seventh, as Nesson quickly retired the first batter on a comebacker to the mound and caught the second batter looking on a wicked fast ball.  But consecutive doubles by juniors Berry and Graves made it 4-2 Mason.  The Mountaineers' rally ended when Chris Meador fielded a grounder at short and made an accurate throw to first to finish the game, giving Mason another victory and moving its record to 9-2 (8-1).  Hagler got the win for the Mustangs, his fourth of the season without a loss.
Mason's next game is at home on Friday at 7 p.m. against the always tough Clarke County Eagles.  Next week the Mustangs will face the only other one-loss teams in the Bull Run District, Strasburg and William Monroe.  These games will provide stiff challenges for Coach Adam Amerine's young squad – challenges they eagerly await.
By Steve Selby
Special to the Falls Church Times
April 22, 2014
In a wild finish to a well-played game, George Mason defeated visiting Madison County last night on a walk-off single by Evan Davis, giving the Mustangs a 4-3 win and improving their record to 8-2 (6-1). Mason fans anticipated a tough game from the Mountaineers, who entered the game 6-3 (4-2), and they were not disappointed as the game produced several lead changes and went down to the last out.
With James Graves on the mound for Madison, the Mustangs struck first in the bottom of the second inning when Chris Meador and Evan Davis singled and Gabe Terry's hard hit grounder to third proved too hot handle, bringing in two runs. Davis would keep the home faithful on the edge of their seats in third, walking two batters but then calmly working himself of out of the jam and keeping Mason up 2-0.
Catcher Marsden Davis threw out a runner at second to nip Madison's effort at a rally in top of the 4th. Evan Davis got himself out of another jam in the top of the fifth.  After loading the bases with one out, Davis got the second out on a pop up.  Then, on a roller hit toward short, third sacker Grant Hagler cut across to field the grounder and make a one-hop throw to nail the runner at first on a great grab by Gabe Terry. Mason would make some noise in bottom half of the inning, when a single by Sam Selby and a walk to Hagler, followed by a double steal put runners in scoring position. But Madison held.
With Mason leading 2-0 going into the top of the sixth, Madison would finally get on the board. A single, Mason error and a double led to Madison scoring three runs. Mason would again threaten in the home half of the inning, when Daniel Butler followed a walk to Terry with a booming blast to right.  But Madison held again.
With score 3-2, things got very interesting in the 7th.  After Mason reliever Logan Nesson got the first out, the Mountaineer's catcher Dylan Berry singled and stole second. A fly out made it two down for Madison. Then, when a pop up in the infield dropped between three Mason defenders, it appeared that Madison would score another run.  But, an alert Hagler grabbed the ball and, using years of his football training, made a diving tag on the runner, ending the inning and bringing up the Mustangs for their last at-bat.
Madison quickly got the first two outs.  Then a walk to Hagler and a passed ball, gave Mason a runner at second with Zach Lang at the plate.  With the count moving to 0-2 Mason was down to its last strike. But Lang rose to the occasion, scorching a double to right, bringing home Hagler to tie the game at 3-3. When the count went to 3-0, Madison chose to intentionally walk Meador and set up a force-play situation. Unfortunately for the Mountaineers, Evan Davis had a different strategy in mind.  He promptly ripped a single to left, scoring Lang for the walk-off win and setting off quite a celebration among the deliriously happy home town crowd.
It was another "team" win for the Mustangs, with contributions large and small coming from virtually the entire lineup. Davis delivered another quality start and Nesson picked up the win in relief for Mason.  These two rivals won't have to wait long for their next game: Mason travels to Madison tonight for a 7:00 re-match.
By Steve Selby
Special to the Falls Church Times
April 14, 2014
"You Can't Win 'Em All" – or so goes the sports cliché. But the George Mason High School Varsity Baseball team almost did – at least for the week of April 7. After three wins in succession over Bull Run District foes Manassas Park, Clarke County and Rappahannock County, Mason faced off last Friday, April 11, against a tough foe from Washington, D.C., Wilson High School, winners of 21 straight DC1AA titles. With little more at stake than Potomac River region bragging rights, the two teams entered the game with the kind of energy one might expect at a playoff game.
After working himself out of a bases loaded jam in first inning without allowing a run, Mason's hard-throwing sophomore pitcher Logan Nesson found his comfort zone, proceeding to set down the Tigers over six innings. Effectively mixing his pitches, Nesson allowed only one hit while striking out six over that stretch.
Always solid, the Mason defense continued to provide great support for its pitching staff. Second baseman Jake Abruzzi started a nice double play in the fourth, cleanly fielding a sharply hit grounder, tagging the runner heading toward second and making the throw to first baseman Gabe Terry. In the sixth inning, catcher Marsden Davis pounced on a ball in front of the plate and threw out the runner at first base.
After a walk, Nesson struck out a batter looking and Davis threw out the runner attempting to steal second, a play that has almost become routine for the Mustang's sophomore catcher.
The teams remained scoreless through four and half innings in a well-played pitchers' duel, with singles by Grant Hagler and Terry being the only hits the Mustangs could manage against the Tigers' starter Will Gibson. The Mustangs finally were able to score in the bottom of the fifth. After a Wilson error and a walk put runners at first and second, freshman right fielder Zach Lang's RBI single gave the home team a 1-0 lead.
As a steady, light rain continued to fall, Wilson went quietly in the top half of the sixth. In the home half of the inning, singles by Chris Meador and Evan Davis got Mason started. But Wilson's defense held, with the third out coming on a hard hit ball by Daniel Butler that was caught on a nice play by Wilson's fleet center fielder, Devin Rivera.
Only three outs from victory, Mason took the field hoping to wrap up the week heading to spring break on a high note. After a ground out to Abruzzi, Wilson was down to its final two outs. But the Tigers got a big hit from Rivera and took a 3-1 lead into the bottom of the seventh. With one out, Sam Selby singled, but Wilson quickly recorded a second out. Lang then had a solid at-bat, working 3-2 count and eventually walking. But Wilson's shortstop Liam Fischer made an excellent play on a ball hit sharply to into the gap by Marsden Davis, throwing to third for the final out.
No, you can't win 'em all. But, in retrospect, winning three out of four games in a week — especially District games — is not bad at all. After the break, Mason resumes play at home against the 5-3 Madison Mountaineers on Monday, April 21, at 7:00 pm. The Mustangs will be at Madison the following night, followed by a home game against Clarke County on Friday the 25th. With their record now 7-2 (5-1 Bull Run District), the Mustangs are poised to have a strong second half of the season.