Steve Selby, Chair
Recreation & Parks Advisory Board
February 11, 2015

I enjoyed Mr. Siegel's February 9 article on West End Park and appreciate the Times' continued coverage of important local developments. As you point out, West End Park is undergoing a significant transformation.  The product of a decade of planning and community discussion, the new West End park will be a "signature" component of the City's increasingly connected network of parks.  While not the largest of our parks, it might be the most visible.  With additional amenities and a new entrance on Broad Street, this transformed park will be attractive to residents and visitors alike.
The park combines many features important to our community.  The expansion will add arbor-like qualities with places for quiet reflection as well as additional walking trails.  Including skateboard features while ensuring other uses for that section of the park was the product of many robust discussions with the community.
Parks of course have value simply as places for recreation and quiet reflection.  They also provide important environmental enhancements, such as improved air and water quality.  And, from every study I've seen, they make communities more liveable, while making them more attractive places to do business.  A more accessible park with improved amenities, combined with an attractive, easily-visible sign saying, in effect, "Here we are: Stop in for a visit" will make that corner of the City much more attractive.
The long effort to bring this project from vision to reality is a testament to the hard work of the City's talented staff, but also a reflection of the constructive input from countless residents and the steadfast support of our elected officials.
You're going to like the new West End Park.
By MARZANNE DELAPP DE ANAYA
February 7, 2013
Girl Scouts is one of the most influential programs that any young girl can participate in. Based around the principles of respect, responsibility, leadership, courage, strength, and many other important skills and values, this program is made up of millions of girls of all ages and cultures around the world.  I've personally been a Girl Scout for ten years, and it's helped me learn about myself, community, and the world I live in.
Girl Scouts everywhere are known for kind service, and of course, cookies!  Through cookie sales each year, girls incorporate goal setting, decision making, money management, people skills, and business ethics into their sales. By participating in door-to-door and booth sales, girls build character and confidence by setting goals and determining how to reach them through selling cookies. For example, my troop planned our money earning activities around a trip to Japan we took this past summer.  We met with Girl Scouts in Japan, visited many shrines and monuments like the Hiroshima Peace Museum, and expanded our cultural awareness while traveling all over the country.  Read more
By: STEVEN VALLEY
June 10th, 2012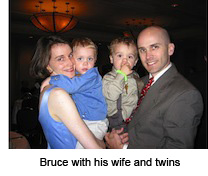 I've know Bruce for over 12 years now.  I was on his team at Microstrategy.  Even during difficult times, he was a motivating and incredibly professional boss.  I enjoyed seeking his advice on any number of issues.  In every one of my interactions with Bruce I was able to see the leader, the friend, and the compassionate person he is. Party politics aside, our district needs a new voice and Bruce is that voice.
I was forwarded the note below, written by someone in our district and it covers all of the points perfectly and really represents the guy I know would be a perfect catalyst for change: Read more
March 19, 2012
To the Editors of the Falls Church Times,
I am running for re-election to the Falls Church City Council. It took time to make the decision to run again considering all the difficult decisions the council had to make during the economic downturn. My friends and family helped me to see that those difficult decisions are starting to pay-off and the City of Falls Church still needs energized voices to completely return to its strong fiscal state. I believe I am capable of providing a balanced approach to helping the city completely recover; moreover, I recognize the council cannot complete this task without the assistance of our citizens.
Growing up in rural southern Virginia my parents instilled the value of hard work and giving back to your community. They also gave me the value of spending for necessities and saving up for big ticket items. With that being said, I have brought those small town values with me to our "Little City". We have experienced one of the most challenging recessions in years; one that made us make some tough choices to be able to get to this point today. Our "Little City" is in the beginning stages of observing a recovery and we are seeing increased interest from developers. With the current work being done on area plans, we will be in a stronger position to share what we want in future development in the City of Falls Church. I am looking forward to engaging our citizens in conversations about what we want the City of Falls Church to look like in the next decade.
We have heard about "The Falls Church way" is to get buy in from citizens because we know a plan without citizens input will be dead on arrival. At this time a taskforce has been established by the city council to begin the tough work on developing an affordable housing policy that will set realistic goals when it comes to taking cash versus units within mixed use developments. The group has all the stakeholders at the table: developers, city board and commission members, community groups and citizens talking about all the different aspects of what a good policy will need to be effective. As the council liaison to the taskforce, I will make sure when a decision is rendered to take cash in these developments there will be a plan in place. One that will either maintain existing affordable housing or work to expand regionally affordable housing near the city limits.
Fortunately our schools are one of the best in the state. For the past two years I've visited George Mason High School to help provide information to seniors and parents on what will be the first of many challenges that a student will face and that's choosing the right college to attend. I believe strongly in the value of education; however, I will continue to advocate for a revenue sharing agreement between the schools and the city. This plan can strike a balance that will fully fund our schools while taking into account the services we provide to city residents. After witnessing the flooding experienced by residents during several storms this fall, it is very important that we continue to fund and expand our storm water management plan in the city. We have an updated Watershed Management Plan which outlines the needs of our city. One of my goals is to make sure we have the appropriate resources to alleviate flooding in our city.
As we continue litigation over our water system, I will work hard to ensure that the system continues to provide safe and quality water to all of our customers. I will, when it is appropriate, communicate to our counterparts in Fairfax to discuss and work on positive solutions. Yet, when it's time to protect the interest of the City of Falls Church I will be the first to protect our rights. I recognize that we have experienced some challenging times in Falls Church and that some decisions made were not popular. But in making those decisions I carefully considered input from citizens and city staff, and weighed those insights with what I thought best supported our city. I have tried to make those decisions that would allow the city to maintain, survive, and eventually thrive.
Over the next several weeks I will work diligently for your support in allowing me the opportunity to continue the job that has started to make our "Little City" a star here in Northern Virginia. I welcome your input during and beyond the campaign.
Lawrence Webb
Lawrence Webb is a member of the Falls Church City Council.
Last week Falls Church News Press columnist Michael Gardner criticized Falls Church City public school officials for the recent use of police dogs to sniff backpacks at George Mason High School.
Gardner drew a stark picture of the use of drug dogs, saying "The incidences of misuse of dogs; where the animals caused elementary-age children to involuntarily urinate themselves, or poorly trained dogs bit students, or vaguely documented alerts led to strip searches of teenage girls, should give parents pause."
Huh?  What's he talking about?  That's not what's going on at George Mason.  As Gardner himself points out, in the recent search at GMHS, school officials kept the dogs separated from the students.  The students were instructed to bring their backpacks to the hallway — and then return to class.  Then the dogs were brought in to sniff the backpacks.  When a dog alerted on a backpack, the student owner was called to the school office to discuss the contents of the backpack, and the student's parents were contacted.  The dogs did not come in contact with the students – and thus, there was no occasion for the parade of horribles Gardner suggests.  No dog bites, no urination, no strip searches.  Given the care that was taken to keep the dogs away from the students, I believe it is unfair to suggest that FC school officials may begin to use dogs in an irresponsible fashion.
Mr. Gardner also makes the charge that the search was poorly executed, but in my view, the opposite seems true.  First, GMHS Principal Tyrone Byrd gave students and parents fair notice some time ago that dogs would be used to search for drugs.  Then, when proceeding with the search, he used trained narcotics detection dogs to conduct sniff tests, a technique blessed by the U.S. Supreme Court almost 30 years ago.  In addition, Byrd has kept parents apprised with email messages providing significant detail.  In my view, that kind of forethought and follow-through indicate good execution, not the reverse.
Byrd is right not to report the detailed results of the search to the community, notwithstanding Mr. Gardner's call for a report.  Although some may want to know the details, privacy considerations dictate otherwise.  Sharing such information with anyone other than need-to-know school administrators, school board officials, and law enforcement officials could subject the schools and City to even more lawsuits than we already face in other areas.  Given the City's experience with recent litigation, Byrd is to be commended for avoiding more of it.  [As Gerald Pressman points out in his comment below, it may be in order for Byrd to report generalities, such as numbers, percentages, or funding of the costs.  Personal information,  however, should remain confidential unless release is required at some point — for example, as a matter of law enforcement.] 
Let's be honest – we have drug issues at GMHS, and it is the duty of school officials to deal with them.   The safeguards Mr. Gardner prefers — teachers, parental communications, attendance polices, health screenings, and counseling programs — are all good and necessary, but they do not serve the purpose of keeping drugs out of school in the first place.  For that purpose,  the use of drug dogs to sniff backpacks while students are in class may well be the most effective and least threatening technique available.  It provides universal scrutiny on an equal basis, provides deterrence going forward, and avoids physical threat.
If there are alternative methods to be considered, great, but they must be effective and efficient.  We cannot afford for school officials' time and attention to be inordinately consumed by the few students who bring drugs to school, to the detriment of the many who stay away from drugs and just want to get a good education.  Given the availability of a tool like trained drug dogs which can sniff hundreds of backpacks in minutes, it is reasonable for school officials to use them.
As a parent of a GMHS student, I appreciate the work of Principal Byrd and other school officials to keep drugs out.  It's one of the most important duties they have, and I urge them to continue their vigilant efforts to accomplish it.
By GEORGE BROMLEY
Falls Church Times Staff
March 23, 2011 
"It's the latest, it's the greatest, it's the library!"
That song, which is well over 40 years old, came to my mind today when I thought about the impact of the proposed budget cuts on the Mary Riley Styles Public Library.  Not so long ago the tune still held true here, but now it would seem an appropriate local lyric would be "It's cut, it's shut, that's our library!" 
Actually, though cut last year and facing further cuts this year, it's not entirely shut, but long-time library board member John Lawrence warned at last Saturday's town hall meeting that the potential loss of state aid, which provides 10% of the facility's budget, could signal "the beginning of the end."
That might take a few years, but the trend line is well established.  Last year the weekly hours were reduced from 68 to 64, due to Sunday closings.  Sunday hours will return under the proposed FY 12 budget, but the total number of hours will drop to 55 due to later openings and earlier closings during the week.
Shorter library hours will mean further staff cuts.  Six other city departments are scheduled to have one position either eliminated or reduced to part-time.  However, the library will lose two part-time librarians, one part-time library assistant, one part-time page, and see three other positions have their hours reduced.  
"It's a huge, huge hit," said Mr. Lawrence.  "You may say they were part-time, but that's what most library work is.  I can't think of any year in the last three when we haven't had staffing cuts.  People who've been here 20-25 years have left and their positions haven't been filled."
More than hours and staff will be cut.  The book budget will be reduced.  The periodical collection cut in half, with the 21 foreign language publications especially hard hit.  The local history room, now open three days a week, will be closed except by appointment.  Library expansion, long deferred, likely will be pushed back once again.      
"I want to make it clear, the library board hates this," said Mr. Lawrence.  So do I.
The library is one of Falls Church's most popular institutions, routinely breaking circulation records.  More than 25,000 people now have Falls Church library cards, including 92% of the City's residents.  Over 1,000 children participated in the library's Summer Reading Program.  For the third consecutive year the library was designated one of America's Star Libraries by the Library Journal.  
"It's one of the markers that sets us apart," said Vice Mayor Dave Snyder, upon receiving the library's annual report in January.  Johannah Barry, Council liaison to the library, called it a "small organization, large in heart, that provides extraordinary service."   Indeed it does, even in the face of the reductions imposed in recent years, but it is becoming increasingly difficult for the library to maintain its stellar reputation.
If you believe that the library is facing more than its fair share of reductions, speak out at the upcoming public hearings, either next Monday or on April 11, or at the town hall meeting on April 16.  Alternatively, forward written comments via [email protected].  To support the library directly, please consider contributing to the Mary Riley Styles Library Foundation Trust.
.
December 20, 2010
Dear Readers of "Man About Town,"
My heartfelt thanks to all of you who wrote encouraging words on the occasion of my "retirement" as a column writer. I will admit that, after 18 months of Mondays, I have never felt more relaxed!
That said, all staff members of the Falls Church Times have the opportunity to write an occasional opinion piece, and I expect I'll not be able to resist that myself.
As to whether my "straight reporting" will be unbiased, I quote E.B. White:
I have yet to see a piece of writing, political or non-political, that does not have a slant. All writing slants the way a writer leans, and no man is born perpendicular.
Now, one unfinished piece of business: As I noted last week, my column efforts could more and more be boiled down to a few sentences:
1) Falls Church City suffers from an almost unique nexus of legal and geographic limitations that convinces me the Little City is unsustainable, and this decade will likely be its last.
2) We can either wait for the inevitable and accept what is decided for us, or we can endeavor to manage our own destiny.
3) The best outcome would be to merge with Arlington County, whom we already depend on for a myriad of services. Merging our schools with Arlington would significantly increase course opportunities for our students.
4) Failure to actively work toward a merger with Arlington will result in a re-absorption into Fairfax County.
5) To those who say merger with Arlington is prohibited by state law, I say (with 25 years' experience in government) that in politics, everything is negotiable.
FIRST HURDLE: "Convincing" Arlington to take us: Piece of cake. Every bureaucracy desires growth, and let's not sell ourselves short – we are a very desirable piece of real estate. Read John Bennett's comment a year ago reporting the opinion of a former chairman of the Arlington Board of Supervisors.
SECOND HURDLE: Convincing Fairfax County to "let" us join Arlington. Fairfax could, and would, block us except for one thing: We have something Fairfax wants very badly – a waterworks that services its residents. Joining Arlington should be a package deal that allows Fairfax to buy our waterworks. That should keep them happy. But we need to take action while we still have bargaining power.
THIRD HURDLE: Obtaining the votes in the General Assembly to make this happen. That's the easy part. If Falls Church, Arlington, and Fairfax County all desire it, there's really no opposition.
And so, dear readers, I rest my case. As we enter a new year fraught with fiscal peril and an inevitable battle over school funding, remember that there is a way out – maybe not the way that we would choose, but a solution nevertheless.
And that's my final word.
Thanks again for your kind words!
GEORGE (ex-Man About Town) SOUTHERN
By GEORGE SOUTHERN
Falls Church Times Columnist

December 13, 2010
The Man About Town's first column in the Falls Church Times ran just shy of 18 months ago. It was about the author James Thurber and how in 1902 he was shot in the eye with an arrow on Maple Avenue. For his trouble, James Thurber Court is named after him.
That was the idea of the column – walk and bike around town and offer whimsical commentary. There followed articles on the duck tree on South Virginia Avenue and the skateboard park, but thereafter the Man About Town began to exhibit a critical bent. A list of the City's Ugliest Buildings shocked one of our editors, who temporarily withheld it from publication for fear of upsetting people. Little could he imagine how many upsets were to come.
The Big Bang came September 21, 2009, with Why Falls Church Needs Arlington:
Falls Church City is no longer economically sustainable. You won't read that anywhere else because other media have a vested interest in preserving the status quo. Read more