By Julie Walters
Falls Church Times Staff
January 12, 2014
School Homework at Eden Center
Do you think kids would enjoy a school lunch of Vietnamese grilled lemongrass beef with rice vermicelli, sliced cucumber, pickled carrots with daikon, and mint leaves, served in lettuce wraps? With fish sauce for dipping on the side?
Here in Falls Church, we might get the chance to find out.
For this review, I invited Richard Kane, Food Service Director for Falls Church City Public Schools, to join me for lunch at Rice Paper, an excellent, two-year old Eden Center eatery.
Rice Paper is my favorite of all the Eden Center sit-down restaurants. (Although Eden Kitchen, a new restaurant from the owners of Pho Factory in Alexandria, just opened, so we'll see.) I love everything about Rice Paper. The decor is beautiful and comfortable. Its long, narrow dining room flanked by a patterned, dandelion-color wall with mirror accents on one side, and an exposed brick wall on the other, reminds me of a neighborhood Parisian Bistro. The service is no nonsense, but friendly and helpful. And the food is consistently good, and often great.
Try walking into Rice Paper without being transported by the aromas of Southeast Asia. You know what it is, right? It's the fish sauce. Fish sauce is the key to Vietnamese cuisine. It's the centerpiece of the salty, sweet, and sour flavor hallmark of Southeast Asian cooking. I just wish "fish sauce" were named something more kid-friendly like "Magic Sauce," or "Alien Monster Sauce!" There may be no way to convince uninitiated school-age children to eat "fish sauce." But, Richard Kane would like to try.
Richard is always on the lookout for fresh, new ideas to include on the school lunch menu. So, since Falls Church has such a cornucopia of ethnic food options, I thought it'd be fun to introduce Richard to Rice Paper after he mentioned that he had never eaten at a Vietnamese restaurant.
Richard's philosophy on school lunch is clear: prepare and serve fresh, nutritious, and delicious food that exposes children's palates to a variety of healthy flavors. If we reach them when they're young, Richard believes, we can build healthy eaters for a lifetime. "We offer samples to introduce students to new foods and it also gives us a chance to cook new things. We work with students as often as we can to teach nutritional value of foods to empower them with the knowledge needed to make informed choices. The USDA is advocating for more fruits and vegetables as a way of fighting childhood obesity. Increasing the variety we offer and incorporating more ethnic foods into our menus will help us achieve this goal. Our school system is very diverse and our students enjoy international cuisine. The possibilities are endless…," he said.
The possibilities are in fact endless. And so is, as Richard discovered, Rice Paper's menu.
The menu at Rice Paper is a tome with more than 125 items. It can seem intimidating but, if you take your time, you'll be rewarded with an education in Vietnamese cuisine. The menu hits all the highlights, and features Bún (Rice Vermicelli bowls), Lâu (Hot Pots), Conge (Rice Porridge), and, of course Pho (Beef Noodle Soups). Many of the dishes are traditional and some are beautifully updated classics. A few are served with social accoutrement, such as make-your-own rice paper wraps and hot pots (a metal pot of flavorful broth surrounded by meat and vegetables at the center of the dining table. Think Vietnamese fondue).
My hands-down favorite Rice Paper dish is the grilled lemongrass beef served with, you guessed it, rice paper. I've ordered it on every visit and, each time, it is pull-apart tender and packed with tangy lemongrass and garlic flavor. The beef is served on skewers and is meant to be assembled and eaten wrapped in rice paper or lettuce leaves with the accompanying steamed rice vermicelli, pickled carrots and daikon radish, cucumber, and fresh mint leaves. But first, you have to soften the "doily-like" (as Richard Kane described it) dry rice paper yourself in the warm water served to the table in a specially-made dipping stand. Richard said the experience "was a treat for me because I felt like a kid again playing with my food. It was fun!" (The rice paper wrap dishes begin at number 100 on the menu.)
Another must try at Rice Paper is the Roasted Quail appetizer. Normally, I don't bother with quail — I usually don't like to work that hard for small amounts of meat on anything other than steamed crabs. But, this dish is the exception. The quail is roasted in a perfect caramelized sauce that's so complex, I don't even care about how hard I have to work to get the measly bits of meat from the tiny bird. The lime juice and pepper sauce complete the gastrique. (By the way, if you've noticed a few French influences in the descriptions, you're paying close attention.)
The traditional dishes
at Rice Paper are also good, but, frankly, I've had better Pho. The broken rice dishes (steamed, crushed rice grains), while apparently quite popular, are also a bit hit or miss. If you want to sample an array of traditional foods, try #24, which includes sausage with shrimp paste wrapped in dried bean curd, an unusual egg custard, shredded pork, a grilled pork chop, and a diner-style fried egg on top. My friend and I were glad we tried it, but we probably wouldn't order it again.
When Richard and I had lunch, he enthusiastically sampled everything we ordered – including the stuff he didn't usually like that much. (He knows how important it is to be a role model when encouraging kids to try different foods, even if they think they don't like it.) We even tried the curry vegetables and tofu in coconut milk. Richard remains "unconvinced that tofu can be anything but just okay."
At lunch time, Rice Paper is always crowded – in a good way. As Richard pointed out, "empty restaurants create a sense of something wrong — like everyone knows this secret about not eating there except for me." Now, however, Richard Kane is in on the secret of Vietnamese cuisine. I look forward to seeing how Falls Church city schools benefit from his knowledge.
Julie Walters is a resident of Falls Church and writes children's books (mostly about food). She's the daughter of a food editor, the wife of a man who knows his Louisiana cuisine, and the mother of a 5 year old with a ridiculously sophisticated palate. You can reach her at [email protected].
(All photos copyright: Julie Walters)
The Details:
Address:
6775 Wilson Blvd, Falls Church, VA 22044
Telephone:
(703)-538-3888
Hours of Operation:
Mon – Sun: 10:00 am-10:00 pm
Forms of Payment Accepted:
Cash/Credit Cards
Website:
http://www.ricepaper-tasteofvietnam.com
Ample parking available
Sopa, not Ropa
By Julie Walters
Falls Church Times Staff
October 28, 2013
With winter approaching, would you like to know what restaurant in Falls Church serves the best soup?
What if I told you that you've driven past it hundreds of times where Hillwood hits South Washington? You may not have noticed it, though. The storefront's modest green awning announces only "La Migueleña Carry Out" and "La Migueleña Mercado Latino." Plus, it's easy to miss that there's a restaurant inside when the sidewalk in front of the business next door is populated by those notorious, provocative half mannequins (the bottom half) in snug jeans. You know where I'm talking about, right?
La Migueleña is part Latin market, part lunch counter. There is limited seating in the market, but it's sun drenched and cozy. You can eat at the warm, artful sand-color tile counter and watch the cooks mold the masa de maiz (corn meal) and grill fresh corn tortillas and Pupusas. Or, if you prefer, there are a few comfortable tables between the wall of windows and the racks that display chicharrones and Latin sodas. La Migueleña also does a brisk carry out business (hence the sign), but I like to eat my soup there.
I was alerted to La Migueleña by some friends who, when quizzed about their favorite dishes, emphatically answered, "the soup."
"What kind of soup?" I asked.
"It doesn't matter." they replied.
I understood what they meant immediately.  On my first visit, I asked the woman behind the counter about the soup of the day.
"Es Sopa de Gallina." she said.
"Oh good! " I told my son, "They have chicken soup — Sopa de Pollo."
"No." the woman corrected me. "Es Sopa de Gallina."
"Ah," I hugged my son. "This is going to be awesome!"
If you are a chicken soup connoisseur, you probably already know the difference between making soup with a regular supermarket chicken and making soup with a hen (gallina).  I'll leave you to discuss matters of chicken age and genus in the comments below but, suffice it to say, my mother-in-law would never make a gumbo in Louisiana from anything other than a hen.  And I personally have never achieved that wonderful gelatinous stock from a regular chicken.  Hens make better chicken soup.  They just do.
Then it got better.
I asked if one order of soup was large enough to share and was shown a veritable trough of a bowl.  We decided yes.
Within seconds, my son and I were slurping from a steaming hot bowl of rich, slightly salty chicken soup, brimming with tender cabbage, carrots, zucchini, and potatoes.  We were busily blowing on our soup to cool it and eat it more quickly when a huge plate of rice, house made corn tortillas, freshly sliced jalepeños, and a quarter roasted, crispy-skinned chicken landed on the counter in front of us.  It looked so delicious that I didn't bother to tell the woman that we had only ordered the soup.  The chicken was juicy and perfectly seasoned, and the rice was a nice addition to the meal.  The only disappointment was the tortillas.  They were a little tough and I missed a richer corn flavor.  But, we enjoyed watching her make them on the grill in front of us.
It was a fun, comfortable, delicious dinner.  When we paid for our meal at the cash register in the back of the store, we discovered that the plate of chicken and rice comes with the soup.  For $12.00, two adults can easily enjoy one substantial meal (they'll split it into two portions for you too).
All of my subsequent visits have been just as gratifying. La Migueleña usually has Sopa de Gallina, but sometimes they serve Sopa de Mariscos (seafood soup) or a soup with beef. There are also many other dishes from the cook's native El Salvador, such as really good Pupusas (grilled tortillas stuffed with cheese, or cheese with black beans), Pollo Guisado (stewed tender chicken with tomatoes, onions, and peppers), and Carne Asado (grilled steak). The menu hangs above the grill and displays pictures of the food along with its name in English and Spanish. Most of dishes are in the $9.00 range and are served with rice, refried black beans (or salad), fresh corn tortillas, and, if you wish, sliced jalepeños. Everything I've eaten is wonderful, homey comfort food and authentic El Salvador.
The staff at La Migueleña is super warm and helpful. Everyone is more than happy to explain the ever changing specials, or show you the food to aid your decision. If you don't speak Spanish, the owner or his sister are always on hand to help you with whatever you need. La Migueleña serves breakfast until 11:00 a.m. (try the Plato Tipico of eggs, rice, tortillas, and refried beans), and the soup is usually ready before 11:30. One pro tip: If it's raining and you're in the mood for soup, make sure you go before noon. They'll run out of Sopa de Gallina before 1:00 every time.
Check it out and tell me if you think it's the best soup in Falls Church. If you don't, I sure hope you'll tell me what is!
(All photos copyright: Julie Walters)
The Details:
404 S. Washington St
Falls Church, VA 22046
703-241-8244
Hours of Operation:
Monday – Saturday: 7:00 a.m. – 9:00 p.m., Sunday: 7:00 a.m. – 8:00 p.m.
By Falls Church Times Staff
May 8, 2013
The restaurant released the following statement this morning:
Dear Patrons and Friends of Anthony's,
It is with a heavy heart and sincere regret that we inform you that Anthony's Restaurant will be permanently closing our location at 309 West Broad Street, Falls Church, Virginia. As a result of our lease expiring, our last day of operations will be June 2, 2013.  Although we have yet to find a suitable new location, we continue our search and we hope to find a new home for Anthony's in Falls Church.  After 41 years of serving our patrons at this location, we would like to say THANK YOU for being a special part of our family and for all the wonderful memories.  We will continue to serve the community at our Manassas location.
Warmest regards,
The Anthony's Family
By KATHLEEN NIXON
Falls Church Times Staff
March 6, 2013
As we settled into our sitting area a few winter weekends ago, my husband said "this really is a little gem" referring to our cabin at Savage River Lodge. After just under three hours away from the City of Falls Church and after a lovely stop for lunch in Frederick at Family Meal, our drive dipped down into a canyon, across a meadow stream and then up Savage River Mountain.
In the winter, if you do not have four or all wheel drive, you either have to call to be picked up or don't bother coming. The road is plowed but still needs extra traction to get up to the main lodge and even some cars (Audis) still don't make it. If you try to chance it and get stuck, it is a $250 charge to get pulled out. This seclusion is worth it because at the end of the road is a luxurious and sumptuous get away for you and possibly your favorite furry friend.
Once at the main lodge, you feel like you have returned to your family's mountain retreat. Rough hewn walls,  comfy chairs and a huge fireplace welcome you to your retreat. This lodge has seen many of my family celebrations – birthday, anniversaries, holidays and the all important get a way.
Savage River Lodge is set on 45 acres surrounded by 750 acres of the Savage River State Forest in western Maryland. You are very far removed from traffic congestion, hub-bub of urban life and most importantly TV or electronics of any kind. The lodge was started by Jan and Mike Russell after forming Nature of Business, a management development program founded on the principle that nature can teach us personally and organizationally how to succeed.


After purchasing the land in 1990, the long road was started. Literally as the road and bridge to the main lodge was not finished until 1998 with the lodge and cabins completed in 2001. Each of the 18 cabins is a serene get away with a loft for sleeping, a cozy sitting room with gas burning stove and a porch.  All the cabins are similar in layout but offer different views of the forest, which is right outside your door. You can step out of your cabin and be on one of the many hiking or cross country skiing trails. The favorite and easiest trail being the Bodhi's Green trail which circumvents the main property and allows secluded views of the forest and its valley's to and from the main lodge or just to take a walk.
In following Jan and Mike's environmental vision, many "green" enhancements have been made along the way to support their business venture. Biodiesel was first used in 2008 utilizing the restaurant's cooking oil to power all of the equipment on the property and in 2010 350 solar panels were installed on the hillside behind the Main Lodge. Mike has done all this himself and provides many tidbits to interested parties. These conversations have been helpful to my family as Virginia and the City of Falls Church seems to be void of any green energy practitioners.
The lodge has a restaurant that may serve most of your meals. You do receive a lovely morning basket with muffins, juice and the daily lodge newsletter. The lodge restaurant serves breakfast/brunch/lunch on the weekends from 9am to 2pm and dinner all evenings. You can go off property for your meals, but you really won't want to. A leisurely walk through the forest to the lodge where a sumptuous meal awaits is what getaways are all about.

During the warmer weather the restaurant offers a lovely porch with a commanding view of the meadow and surrounding forests. Hummingbird feeders and flower filled planters frame the view. In the winter, the dining room just beyond the bar is warm and cozy. The lodge works with several area farms for their ingredients including a new partnership with Firefly Farms for their goat cheese.
The new chef Tylor Dinteman has significantly expanded the menu including several vegetarian options including Grilled Trumpet Mushrooms served over black Beluga lentils and Heirloom Bean Cassoulet served with mushrooms and root vegetables. The rest of the menu has also been expanded to include several new dishes for brunch and dinner.
For breakfast I was enthralled with "The Hunter" omelet with caramelized mushrooms, melted leeks, smoked Gouda and wilted arugula. Omelets sometimes are too big and too wet for me, but this omelet was so perfect that I had it both mornings. The caramelized mushrooms and melted leeks supported the smoked Gouda, so the overall taste was warm and inviting with just enough bite from the arugula.  Maple glazed bacon – maple from trees on property – was thick and crunchy.
For dinner the Lodge Meatloaf is a favorite with its unique bland of wild meats, pork and beef with fresh herbs, spice and local maple syrup that is wrapped in apple wood smoked bacon, finished with cabernet mushroom demi glace. The new menu includes several new items such as a Lamb Cassoulet a lamb loin with braised lamb, Brie Stuffed Chicken Breast and a duo of Pork which includes a pork ragu tossed with fresh pasta served with a roasted pork tenderloin.
One of the new additions is a partnership with Firefly Farms and you can see this at its best with either a private tasting at the farm or for dessert by choosing the cheese plate. I am partial to cheese after dinner rather than dessert so I was thrilled to see this addition to the menu and impressed by the selection of cheeses presented.
For your dining pleasure there is an extensive wine list which has been noted by both the Wine Spectator and the Wine Enthusiast as being exceptional. I tend to agree.


In addition to the secluded and lovely location and the wonderful food, the Savage River Lodge is a very the dog friendly environment. The current lodge canine hosts are Koko and Karma who just celebrated their third birthday – 21 in people years – and they were able to enjoy their first micro brew.  Besides seclusion, luxurious hospitality and environmental responsibility, canine comfort is important to the team at Savage River Lodge. In your cabin there are supplies that all dog parents need – towels, bowls and bags. If you need any treats, they are freshly baked on the premises. If you would like to treat your pup to a gourmet meal, there is a menu to select from. And in your morning breakfast, you will find a sumptuous doggie treat for your pup along with your muffins and juice. Dogs are allowed everywhere on the property except in the Main Lodge and only need to be on leash in and around the cabins. There are plenty of puppy stations throughout the main property equipped with bags and trash receptacles. Ill behaved puppies and their families are noted and not invited back.
Savage River Lodge is located off of Interstate 68 just outside of Frostburg Maryland. The cabins are all the similar with differences being in size of the bed and view. They range from $225-$245. There is a pet fee of $30 per night. There is a two night minimum on the weekends, and a three night minimum on holiday weekends. The lodge notes that it is an adult centered retreat and does not have activities or sitting arrangements for children as well as a very limited children's menu in the restaurant.
Savage River Lodge
1600 Mt. Aetna Road
Frostburg, MD 21532
Phone:   301-689-3200
www.SavageRiverLodge.com
By JIMMY SCARANO
Falls Church Times Staff
January 29, 2010 (republished January 11, 2013)
After a few ho-hum experiences with Ethiopian food in high school I was ready to swear off the cuisine forever.  Even though Washington D.C. — especially the "Little Ethiopia" neighborhood at 9th and U streets- reputedly has the best Ethiopian dining scene in the country, I couldn't bring myself to shell out cash for what I perceived to be nothing more than mushy vegetables and cold, sour, spongy bread.
Then I went to Virginia Tech and everything changed.
My four years in Blacksburg, Virginia, were, for the most part, unbearable when it came to eating out.   Most places were generic sports bars or pathetic attempts at Chinese, Thai, or Mexican food.  One day, out of sheer desperation for something "ethnic" I tried a hole-in-the-wall, one-woman take-out Ethiopian joint called Excellent Table, which had been open a few months and seen little business.
Given what I thought of Ethiopian food and what the standards were for restaurants in Blacksburg my expectations were unbelievably low.  But I was shocked at the freshness of the food, the spicy complexity of the lentils and meat stews, and even the injera, the ubiquitous flatbread that I'd only had cold and sour could apparently be pleasantly tangy and earthy when made right.  I went back several times, gaining more respect and admiration for Ethiopian cooking each visit.
Now back in Northern Virginia I've gotten away from Ethiopian food a bit.  I've neglected the cuisine in favor of so many others that I can't get enough of.  I've been pulled away by the Eden Center and great Thai, Chinese, and Middle Eastern restaurants in the region.  I've been on Indian kicks and Lebanese kicks and Persian kicks.  And that's a loss for me, because Ethiopian food is soulful and unique.
So this week I finally got off my rump and hit up Meaza Restaurant, one of a few Ethiopian restaurants within a reasonable grasp of the City of Falls Church.  The gargantuan, tastefully decorated eatery (supposedly the biggest Ethiopian restaurant in the United States) straddles the border between Falls Church and Arlington and has garnered rave reviews by every major news outlet.  Meaza is widely recognized as the best Ethiopian restaurant outside of Washington D.C. proper.  Many food writers even consider it to be better than the innumerable Ethiopian award-winners in the District.
After one visit all I can say is that I will be back.  Though it was just a single meal, my dining companion and I ordered a variety of dishes, easily enough to feed four people.  Essentially, I crammed two trips to the restaurant into one lunch.
Let's get the bad stuff out of the way first, because there wasn't much of it.  In fact, the only thing we got that I wouldn't order again were the sambusas, Ethiopia's off-shoot of the fried Indian turnovers called samosas.  They were oily, heavy, tepid, and bland, and a horrible waste of calories to start your meal with.  Also, I suppose the service wasn't fantastic.  I've read many complaints in reviews and online about slow servers, unfilled water glasses, and missed orders.  Nothing on my visit was too egregious, but there was some difficulty in placing the order because of the language barrier and the waitress was a tad pushy.  If you go in expecting so-so service you'll probably leave happy.
Food-wise, everything we got after the sambusas was either good or excellent.  And all of it was greatly aided by the first-rate injera that Meaza makes on-site.  The starchy staple of choice in Ethiopia, injera is a thin-as-a-pancake, fermented flatbread traditionally made from teff, an ancient grain that resembles millet.  Most every Ethiopian dish is served atop of a piece of injera, which soaks up sauces and gravies beautifully.  Additional injera is used to pick up whatever is on the plate, including the well-drenched injera.  No utensils necessary.
Teff is expensive to get in the states (though it is grown in the Midwest now); so many Ethiopian cooks use part teff and part wheat flour to make their bread.  Meaza makes both an all-teff injera and a half-and-half one, but you've got to ask for the all-teff to get it and pay an extra dollar.  We opted to have our meal served on the half-and-half but got all-teff on the side for scooping.  The "pure" bread was noticeably darker in color, and, to my taste, a little bit less sour and more pleasant to eat.  For a measly buck, I'd splurge for the traditional stuff.
The dish I'd be most inclined to order again—and, actually, the one I would order every single time if I were with a big group—is the #7 special vegetarian combination meal.  Ethiopian's treat vegetables and legumes in a delicious manner, gussying them up with chilies, ginger, onions, and berbere, an indispensable spice mixture with a laundry list of ingredients.
I won't recount every dish on our platter, which included eight dollops of veggies and lentils, but there were a few that really spoke to me.  The mesir wat, an earthy, rich, brick-red mass of lentils, was excellent.  Wat means stew in Ethiopian and pretty much any dish involving the word is chockfull of spice and seasoning, thickened with cooked-to-death onions, and uncommonly delicious.  The jalapeno and ginger-studded collard greens, called gomen, were another standout.  They were tender but not mushy and the perfect foil for the injera.  They were also strikingly similar to the greens I'd had in Blacksburg, which gave them some bonus nostalgic points.
But the best part of the special veggie combo was one of the elements that separates it from the standard veggie combo; a salad of injera and tomato known as timatim fitfit.  I'd never had the dish before but went gaga over it after one bite.  It's nothing more than leftover shards of injera with tomatoes, onions, and a light lemon dressing.  Yet it is so refreshing and bright, and such a great counter to the heavier stews and meat dishes.  Having tried it, I don't see how anyone can justify getting the regular veggie combo.
To test out the meat options, we opted for the doro wat, a richly spiced chicken stew served with hard boiled eggs that is the nation's national dish, and the lamb tibs with awaze sauce.  Both were spooned onto our communal platter of injera, which housed all the veggies from the sampler on the perimeter.
Doro wat was often on the menu at Excellent Table in Blacksburg, so I'm quite familiar with the dish.  Meaza's rendition was spot-on but its flavor profile overlapped too much with the mesir wat.  But that was my fault because I ordered both.  Also, I had forgotten that the dish is usually served with one scrawny piece of chicken and is mostly about the sauce, so don't expect a plate full of chicken if you order it.
I'd never had lamb tibs or anything prepared with awaze sauce before, so it was a thrill to try both in one dish.  Tibs are a quick-cooked Ethiopian specialty, usually consisting of stir-fried pieces of beef or lamb teeming with jalapenos, onions, and garlic.  They can be eaten as is or embellished with a marinade in awaze sauce, which typically includes red wine or Ethiopian honey wine and all kinds of spices.  Our tibs could have been a tad tenderer but were still perfectly delicious—spicy, assertive, and fun to pick up with the injera.
There's still plenty on the menu I'd like to try, including the kitfo, a famously spicy minced raw beef preparation, and any number of lamb and beef tibs variations.  If my meal is any indication most of it will be pretty darn tasty.  This is the sort of place where you should feel comfortable exploring much of the menu.  Someone in the kitchen really cares about what they are putting out.
Meaza's also a good bargain.  The portions are generous and, considering the quality, well-priced.  You could get out at 15 to 20 bucks a person for dinner no problem.
So the only real hurdle for a City of Falls Church resident is getting there.  But if you're an adventurous diner with a pension for spicy foods, I think a ten or fifteen minute trek isn't too much to ask.
Meaza Restaurant is located at 5700 Columbia Pike, Falls Church, Virginia, 22941. (Click for map.) 703-820-2870.
(Editor's Note: Kathleen Nixon has succumbed to the flu and will be taking a break for the next few weeks. Over the holidays she visited Meaza and concurs with Jimmy's assessment of the restaurant.)

By Kathleen Nixon
October 26, 2012
Falls Church Times Staff
As has been shared in many of the comments of the articles over the last few months, there is a very strong interest to bring Man (or woman's) Best Friend with us on our dining excursions. While this is readily acceptable throughout Europe, America is still playing catch up. There are many cities and communities that are extremely dog friendly, while others are not. Alexandria – Del Ray in particular — and Arlington boast many dog friendly restaurants and retail venues.
I have been dining with my dogs for 10 years all throughout the US and find it very relaxing and enjoyable when I am at an establishment that is accepting of dogs. However there are challenges that we need to address which focus more on the people aspect rather than the canine. Dogs are easily trainable, people not so much, so it is usually more the owners who create a problem than the canine who is just following their owner.
Some simple rules about dining with your dog:
Please be sure your friend has done his/her "business" at home before you take them out.
Please be sure you have fed and watered your dog before going out.
Make sure that your dog is comfortable in crowded noisy environments.
If you are someone who is near a dog that is joining his people for a meal, please remember to ask before approaching the dog rather than running up to the canine friend saying "oh what a cute puppy". I share these tidbits for everyone's dining pleasure.
There are several dining establishments in and around The Little City that I have found to be a wonderful experience for me and my puppy, Bentley.
Argia's has a nice patio and they do bring a water bowl out for you.
Clare and Don's does have a hamburger and rice available for canine guests. Lunch has worked out better for us rather than happy hour and dinner just because of the crowd and music.
MadFox Brewery will allow dogs only on the patio outside the chain.
Pizzeria Orso has a nice patio that has lots of room which is more comfortable for Bentley and other customers who are on the patio and may not be dog friendly. Chef Will is the only chef I know of who has several rescue dogs, and Bentley loves the pizza crusts.
Buzz Bakery and Café is nice for a coffee and scones for humans while puppies can munch on carrot, peanut butter, low fat cream cheese and bacon muffins.
Le Marché is a nice walk from our house for Bentley and he loves the international flavor along with a nibble of croissant and ham and cheese omelet.
BY Ra Chan
October 12, 2012
Special to the Falls Church Times
I would not consider myself a fried chicken connoisseur, but I do love fried chicken, from the fast food variety to the upscale version. I even own a deep fryer so I can make it at home when I've got the urge. So when my husband's cousin mentioned that he was going to Flavor's for some fried chicken, I was very intrigued and wanted to try it out for myself.
I'd definitely describe the restaurant as a hole in the wall type place, it's right off Columbia Pike and if you weren't looking for it, you'd miss it for sure! The interior is set up like a cafeteria and the décor is interesting. But I was there for the food. You actually order at the counter and pay for you meal after you're done. The gentleman behind the counter was actually super helpful in giving his recommendations. I decided to go with a 2 piece dark chicken with collard greens and mac n cheese as my sides. The fried chicken is cooked to order, so there's a little bit of a wait after putting in your order. It took about 30 minutes for our food to be cooked.
When my order was ready, I couldn't believe how home made my dinner looked! It really reminded of a Sunday night family meal. Looking over my plate, I loved how golden brown and crispy my chicken looked and the side orders were generously portioned.  Taking my first bite, I loved the crunch and the perfect seasoning on the chicken. There wasn't too much breading, but just enough to coat and keep the chicken moist. I just had a few squirts of hot sauce over top and my chicken was perfect. There was some greasiness on my plate, but that's from the lard it was deep fried in and since I wasn't really worried about my cholesterol level, devoured every morsel.  The mac n cheese just oozed with cheese and the collard greens reminded me of something you'd find at Grandma's kitchen.
Overall, I was very satisfied with my dinner. The ambiance of the restaurant wasn't that great, but the food definitely made up for it. And if you don't mind smelling like fried chicken after you leave, I'd recommend you stop by Flavor's and try it out.
Flavors Soul Food
3420 Carlyn Hill Dr
Falls Church, VA 22041
(703) 379-4411
http://www.flavorssoulfood.com
Twitter: @flavors01
By Kathleen Nixon
October 5, 2012
Falls Church Times Staff
There is a new place in the community, but not in the Little City, where I have been frequently over the last two weeks. My new favorite snack food is Junk and my new favorite drink is Cupcake. I did one night sustain myself with a Kimchi Dog. And there are also cupcakes.
Do you know where I have been hanging out? Congratulations to "grateful2BinFC" for their correct answer! Angelika Movie Theatre in the Mosaic District.
When the initial press releases came out about the Angelika, I noticed three things: the concept of Angelika, the types of entertainment that would be offered there and that they had partnered with a celebrity chef.
A celebrity chef for a movie theater? I was intrigued.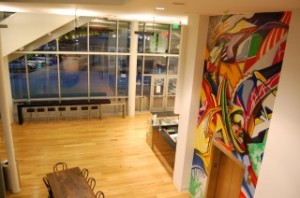 Angelika has created an entertainment brand around making going to the movies a unique and elegant experience. One that is derived from an all around sensory experience rather than just some place to plop down for a few hours and gorge on popcorn. The lobby greets you with sleek concrete, glass and steel that makes you feel more like you are going to a museum in New York rather than the new movie theater where the old one used to be. Once inside, you have three levels to enjoy eating, movie watching or sunset gazing.
Your first eating adventure is a mixture of cupcakes, coffee and beers on tap. On one occasion the cupcake and coffee café was filled with folks just enjoying the environs and the treats without realizing that they could also go upstairs to watch a movie.
At the main concession stand, you have such a wide selection of treats and beverages that I recommend getting there early because you will have a difficult time deciding what you will want to enjoy. At Angelika, your standard movie fare has a definite twist. Your beverage selection includes your usual soft drinks but these are pour your own from a soda fountain machine. This allows me my favorite drink combo – Diet Coke mixed with Barq's Root Beer. There is a selection of beers on tap: Port City Optimal Wit, Great Lakes Dortmunder Gold, Bell's Amber Ale, Lagunitas IPA as well as a fine selection of bottle beers. My guests were quite fond of the Port City Optimal Wit and the Lagunitas IPA. I have fallen in love with the Cupcake Prosecco and it is hard to sway me away from this. The Prosecco is smooth and light, not overly sweet. Yes, you can take these into the movie theater with you in a plastic cup.
If you have a difficult time deciding which meals to pair with the beverages there are several suggestions on the menu which include the Black Forest Ham and St Andre Sandwich recommended with the Michael David Seven Heavenly Chardonnay or the Bell's Amber Ale. Or you might like the Wasabi Chicken Breast Sandwich with the Dona Paula Malbec or Great Lakes Dortmunder Gold.
The other "food" is what you would expect at a movie theater – dogs, popcorn and nachos but with an upscale take. The nachos are blue corn chips, with your selection of toppings. The hot dogs – there are three choices – Kimchi, Mexi Cali or BLT. The Kimchi seems to be the favorite with Kimchi, and sautéed green onions. The piece de resistances are the popcorns that offered with different flavors with my favorite being Beer and Cheddar. However there is one more popcorn delicacy that bears special mention: the Angelika Junk.
Junk includes popcorn, pretzels, potato chips, Rice Krispy treats drizzled with caramel and chocolate sauce. And bacon. Yes, bacon! Now while this may not sound like something you would enjoy, trust me you will.
On my frequent trips over the last few weeks, I have ended up with Cupcake Prosecco and Junk either as my main movie snack or for the post movie snack up in the Lounge. The Lounge is on the third floor and has a great view toward the west. Now this can mean a great sunset or watching an approaching lightening storm, or gazing at the huge cell tower left over from the previous development.
The concession staff is still working out the kinks of getting to know the offerings and working with customers. The one complaint I have is that most of the food – hot dogs, nachos and sometimes the popcorn- is room temperature rather than hot.
In mulling over the movie going experience with friends, we still give the Angelika thumbs up as a great experience. You will pay more for the movie ($13) and for the refreshments (Junk $10) than you would at a regular movie theater, but I would rather enjoy a nice glass of Prosecco and a yummy treat than gorging on stale popcorn coated with who knows what washed down with a soft drink for just a little less. A colleague ventured away from his beloved E Street Cinema to join me on one of my ventures. He frequently ( 3 times a week) goes to the movies at the last minute, usually counting on the movie fare for dinner. He said he would really love knowing that his evening meal would be of the quality and variety that he found at Angelika, with great beer, nachos and hot dogs rather than what he usually has to settle on.
On an entertainment note, I do "love" the aspect of an independent movie theater closer than E Street or Shirlington and was quite plussed when several DC reporters and film goers at the Press Opening commented that this community "didn't deserve this theater". Touting the education, income and cultural aspects of the surrounding communities, I did politely correct them that we not only deserved this entertainment venue, but it will thrive in our community. I have truly enjoyed being able to watch Bill Murray and Laura Linney in Hyde Park on Hudson ( sneak preview, coming out in December), Samsara which is all visual images, Hello I Must Be Going, a quirky comedy, and The Perks of Being a Wallflower, a coming of age comedy drama. In the future I am looking forward to 7 Psychopaths with Woody Harrelson and Argo with Ben Affleck, not to mention the several other great film expositions that will be coming to town. There are CryBaby morning, Student nights and Baby Boomer specials listed on the website.
Angelika at Mosaic
Lee Highway at Gallows Road – behind the soon to open Target