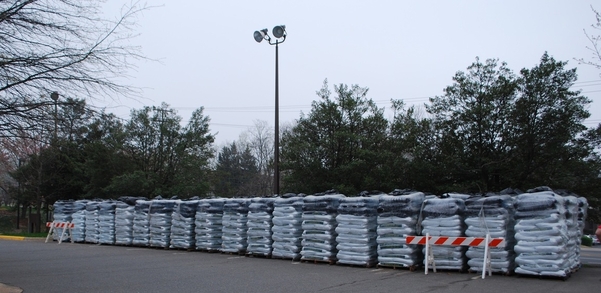 Special to the Falls Church Times
March 4, 2015

For the past 22 years, the George Mason High School Athletic Boosters Association has sponsored a spring mulch sale, with proceeds helping meet the school's athletics program's pressing needs, including equipment purchases. Student athletes from all spring sports donate their time on a Saturday morning to load and deliver mulch to homes throughout the Falls Church area.
"This is like an old fashioned barn-raising," said Robert Donovan, one of the event's coordinators. "We have parents volunteering as drivers and a parking lot full of kids helping load the bags and head out for deliveries. Everybody participates."
By David Witzel
Falls Church Times Staff
June 5, 2014
Victories in last night's Regional Semifinal matches have assured both George Mason's Boys and Girls Soccer teams of another trip to Radford and the State soccer tournament.  The Girls defeated Goochland 10 to 0 at Goochland while the Boys faced down Richmond's Maggie Walker 5 to 2.
The Girls beat Buffalo Gap 10 to 0 on Monday while the Boys defeated Wilson Memorial 4 to 0, both at home, to advance to the Region Semifinal. Read more
By Steve Selby
Special to the Falls Church Times
May 28, 2014
It was not time for sports clichés: "You gave it your best;" or "You can't win 'em all;" or even "There's always next year."  No, no one wanted to say anything like that to the talented group of Mason varsity baseball players who had just lost a heart-breaker to Madison County in the opening round of playoffs. In an exciting game played on Memorial Day, the Mustangs came up short, and the fantastic roller-coaster of a season ended too soon.  With a 6-5 loss to Madison County, dreams of moving on in the playoffs, perhaps making the regional tournament, were dashed. The disappointed squad was left with the mundane chores of cleaning up the field, raking the mound, storing the gear – the kinds of chores you can do when your mind and heart are elsewhere.
Going into the game, the Mustangs knew that the #7 seed given to the Mountaineers was not a reflection of their ability or a true representation of their season.  Mason's two regular season wins over the Mountaineers were by one and two runs. Mustang players were very aware that Madison had plenty of pop in its offense, as well as good pitching and defense.  They also knew that seven of Madison's Bull Run District losses came on a total of nine runs. And, they were aware that two of those close losses had come against eventual Bull Run District champs Strasburg.  No, this was not a classic #2 vs. #7. This was a battle of equals, with perhaps a bit of an edge going to the Mountaineers who, as the sports cliché goes, had "nothing to lose." Read more
Special to the Falls Church Times
May 28, 2014
The Mason JV baseball team finished its season with a 12-3-1 record closing their season with a no-hitter against Strasburg High School.
By Steve Selby
Special to the Falls Church Times
May 22, 2014
The George Mason Varsity baseball team closed out its regular season play with three tough games in five days, facing Strasburg twice and wrapping up against William Monroe on Wednesday.  And, when Monroe's slugger Keegan Woolford led off Wednesday's game with a blast that nearly took out a window on a bus parked out beyond the right field fence, it did not look good for the home team.  But, the ball fell just foul.  And, although Monroe would manage to score a couple of runs in the game's opening frame, the Mustangs played solid defense, generated timely offense, and got strong performances from their pitchers to prevail in a well-played 5-4 victory over their Greene County opponents.
Monroe arrived with a 17-2 record, with narrow loses to Central and Strasburg marring their otherwise perfect record. They shut-out Mason in the teams' earlier meeting in Standardsville and arrived looking to improve their record going into the playoffs. Coach Mike Maynard's squad brings sound fundamentals, plentiful power, good pitching and a starting lineup with several all-district players. Like Mason, they are a young team. This dramatic contest was a harbinger of more good contests to come between rivals who clearly respect each other and relish the chance to compete.
After Woolford's long foul ball scattered some dirt in the parking lot, he would reach base and eventually come around to score on a single by Jeffrey Early. A double by Dylan Shifflett would give Monroe a 2-0 lead heading into the bottom of the first.  After a weather-related delay of 30 minutes, Mason came up to bat. Although a hustling Marsden Davis managed an infield hit, the Mustangs were unable to generate any additional offense.
Mason's starting pitcher, senior Grant Hagler, retired the side in order in the top of the second.  Mason got a single from senior Connor Rhodes in the bottom of the inning, but could not get on the board. In the top of the third, Woolford led off with a double. Then, as they have all season, the Mustangs used good defensive plays to keep things in check. On a bunt by Tobey Collier, Marsden Davis pounced quickly on the ball and fired to second baseman Logan Nesson covering at first. Nesson made a nifty pick to get the first out. Shortstop Chris Meador then made a fine catch down the line in left field on a pop up.  A sharp line out to center fielder Evan Davis would close out the inning, keeping the score 2-0 for Monroe. Mason would threaten in the third when Nesson singled, Zach Lang was hit by a pitch and Meador followed with single.  But Monroe's defense would hold, leaving Mason scoreless going into the fourth.
With Monroe coming to bat in the top of the fourth, Nesson took over for Grant Hagler. A bulwark for Mason's pitching staff all season, Hagler went three innings, allowing three hits and no earned runs, while striking out one and issuing no walks.  Although Monroe would manage to load the bases, Nesson struck out the menacing Woolford to close out the inning.
In the bottom of the fourth inning, the Mustangs' offense began to click on all cylinders. Evan Davis led off with a double, moving to third on a single by Daniel Butler. After Hagler's infield hit scored Davis, Gabe Terry singled sharply to center. With the bases now loaded, Nesson worked a walk to force in another run, gaining an RBI and tying the score. Zach Lang's sacrifice fly would make it 3-2 Mason and a Monroe error would give Mason a 4-2 lead heading into the fifth inning.
Mason's defense was on display again in the fifth.  After a single and strike out, Jake Abruzzi made a nice play at second to record the second out. On the next play, Meador charged quickly, grabbed the ball on a tricky bounce and fired to first to nip the runner and close out Monroe.
Monroe would draw closer in the sixth inning. Benjamin Bohlman reached first on an infield hit, just beating the throw by Meador on a bang-bang play at first. On a fielder's choice, he would advance all the way to third. A sacrifice fly by Trevillian would make it 4-3 Mason. Hagler made a nice play on a grounder to third, closing out the Dragons. In the home half of the inning, Hagler and Terry each singled. After Nesson walked, Meador would also draw a free pass, making it 5-3 Mason.
Going into the seventh inning, everyone at the game knew that protecting a two-run lead against a team with as many good hitters as Monroe would not be an easy task. Woolford grounded out to Abruzzi for the first out. With two strikes on Collier, time was called by the home plate umpire. As if the tight game needed additional drama, play was halted for what seemed like an eternity, while frantic fans tried to communicate with the driver of an idling car in the upper lot, whose lights were shining brightly right into home plate.
When play finally resumed, Collier would single. Trey Lam followed with a single and a walk loaded the bases. On a grounder hit sharply to his right, a diving Terry would field the ball and toss to Nesson on a close play at first. A run scored on the play, making it 5-4 Mason. With the tying run 90 feet away, Mason's faithful followers were starting to look for the smelling salts. But a sharply hit ball was fielded by Abruzzi who threw to Terry to end the game.
For the victors, Nesson went four innings, giving up seven hits and two earned runs, while walking only one and striking out four. Mason's only seniors, Hagler and Rhodes, each hit safely to celebrate their final regular season games in Mustang uniforms. Strong infield play throughout the evening, backed by solid play in the outfield by Lang, Evan Davis and Sam Selby, once again contributed to a Mason win. As has been the case all season, it was a true team victory.
Mason finished the regular season with a 14- 6 record overall, going 12-4 in Bull Run District play to earn a second seed heading into next week's Conference 35 playoffs. In non-district play Mason defeated Yorktown and John Champe, while losing tough, close games to Broad Run and Wilson.
As the great sports writer Red Smith once said, "Baseball is dull only to dull minds. Today's game is always different from yesterday's game, and tomorrow refreshingly different from today."  It certainly has not been a dull season for this young, dynamic team led by head coach Adam Amerine and assistant coaches Brad Young and Ryan Costa. Again and again, someone has stepped forward to get a timely hit, make a key defensive play, take the extra base, or strike out a batter to get out of a jam.
In each victory, it has been easy to pinpoint significant contributions by virtually the entire lineup. Fans understood that no matter what the situation, this Mustang team was not going to give up.  That spirit has carried the Mustangs to a successful season and positioned them well for next week's playoffs.
Playoffs begin at home on Monday at 6:00 p.m. when Mason will face the #7 seed team.  With a victory, Mason would advance to play on Tuesday, when they would face the winner of the game between the #3 and #6 teams.
By Steve Selby
Special to the Falls Church Times
May 20, 2014
Another strong pitching performance by the Strasburg Rams led to a victory over the George Mason Mustangs on Monday night's game played in Strasburg. In leading the Rams to a 6-4 victory, senior Tyler Doman went five and a third innings, allowing one hit and one earned run, while striking out six and walking six.
Although Strasburg threatened in the bottom of the first inning, catcher Marsden Davis cut down a runner attempting to steal, helping Mason get out of the inning without allowing a run. Strasburg would get on the board in the second inning, with Josh Pritchett's double helping put the Rams up 2-0. Strasburg added another run in the fourth to take a 3-0 lead.
Mason pushed back in the fifth inning. With two outs, Sam Selby and Chris Meador walked. Delivering Mason's first hit of the night, Marsden Davis singled sharply to left, driving in a run. But, Strasburg quickly added two more runs in the bottom of the inning, taking a 5-1 lead into sixth inning.
With one out in the top of the sixth, Mason would rally. Grant Hagler hit a rocket toward first that proved too hot to handle. Gabe Terry followed with a walk. After a wild pitch advanced both runners, pinch hitter Connor Rhodes walked to load the bases. Selby's infield hit made it 5-2. Meador then hit a sharp grounder toward third, resulting in the Ram's second error of the inning and two more runs scoring to bring the Mustangs within one. Strasburg added an insurance run in the bottom of the inning, when Evan Snapp's triple and a sacrifice fly made it 6-4. Strasburg retired the Mustangs in order in the seventh, holding on for the victory.
In spite of generating just two hits against the Rams, Mason was in the game until the very end. Evan Davis, Jake Abruzzi and Gabe Terry handled the pitching responsibilities for Mason.
The Rams take a 17-1 record (14-1 in district play) into their final regular season game against Clarke County. Strasburg will enter the Conference 35 playoffs as the #1 seed, earning a bye in the first round. Mason faces William Monroe in its final regular season game at home on Wednesday. With a record of 13-6 (11-4), Mason will enter the tournament as the #2 seed, facing the #7 seed in the first round.
By Steve Selby
Special to the Falls Church Times
May 19, 2014
On a picture perfect day for baseball, the George Mason Mustangs battled the Strasburg Rams in a home game played on Saturday afternoon. Entering the game with only one loss on the season, the Rams prevailed 7-4.  The teams meet again at Strasburg this evening.
The warm, comfortable weather drew the season's largest crowd.  Fans, supporters and players joined together in cheering on cancer survivor and aspiring baseball player, Carson King, a student at Thomas Jefferson Elementary School, who threw out the traditional first ball as part this "Diamond Dreams" game. Judging by Carson's toss, the Mason coaching staff will want to keep an eye on the youngster. Read more
By Steve Selby
Special to the Falls Church Times
May 14, 2014
The Mustangs improved their record to 11-2 in district play with a 14-1 win over Rappahannock County, in game played on Tuesday night on Mason's home field. Sophomore Jake Abruzzi went five innings on the mound, giving up only three hits and one walk, while striking out seven.  Mason's 14 runs came on thirteen hits, and the Mustangs played error-free ball in the field.
After Dylan Midkiff singled for Rappahannock in the top of the first, he was thrown out by Mustang's catcher Marsden Davis. Abruzzi struck out the next two batters to retire the side.  In the bottom of the first, left fielder Sam Selby singled to center, stole second, advanced to third on a single by shortstop Chris Meador, and scored on a fielder's choice.  A sacrifice fly by Daniel Butler gave Mason its second run, and a Rappahannock error made it 3-0 Mason heading into the second. Read more