Fight Snow: Buy Mulch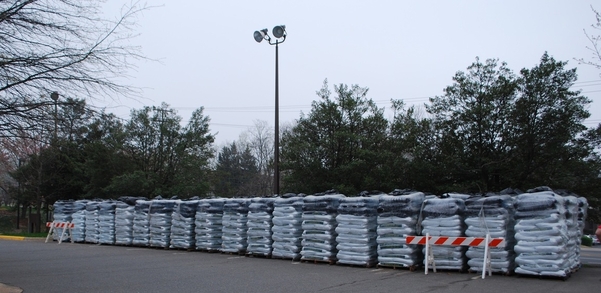 Special to the Falls Church Times
March 4, 2015

For the past 22 years, the George Mason High School Athletic Boosters Association has sponsored a spring mulch sale, with proceeds helping meet the school's athletics program's pressing needs, including equipment purchases. Student athletes from all spring sports donate their time on a Saturday morning to load and deliver mulch to homes throughout the Falls Church area.
"This is like an old fashioned barn-raising," said Robert Donovan, one of the event's coordinators. "We have parents volunteering as drivers and a parking lot full of kids helping load the bags and head out for deliveries. Everybody participates."
The high quality, shredded hard-bark mulch comes in three-cubic-foot bags which sell for $5.00 each. "Local residents tell us they like to see the students working so hard," said Kate Nesson, an officer with the Boosters. "It's provides a real sense of community, both for the students involved and those who support us by purchasing the mulch. It's a fun day."
Those interested can purchase mulch online at the MasonAthletics.org Fan Shop.  When you order, be sure to note where you want the mulch put on delivery day, March 21, 2015. Order forms are also available at the Community Center, City Hall and the library.
"Buying mulch is the best way we know to fight snow; it's just science" said Donovan.
Deadlines for orders is March 10. Deliveries will be made on Saturday, March 21.
Contact: Steve Selby, 703-237-0234, [email protected].