FOOD: Junk, Cupcake and Dogs – Trivia Quest – Angelika
By Kathleen Nixon
October 5, 2012
Falls Church Times Staff
There is a new place in the community, but not in the Little City, where I have been frequently over the last two weeks. My new favorite snack food is Junk and my new favorite drink is Cupcake. I did one night sustain myself with a Kimchi Dog. And there are also cupcakes.
Do you know where I have been hanging out? Congratulations to "grateful2BinFC" for their correct answer! Angelika Movie Theatre in the Mosaic District.
When the initial press releases came out about the Angelika, I noticed three things: the concept of Angelika, the types of entertainment that would be offered there and that they had partnered with a celebrity chef.
A celebrity chef for a movie theater? I was intrigued.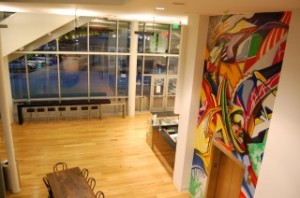 Angelika has created an entertainment brand around making going to the movies a unique and elegant experience. One that is derived from an all around sensory experience rather than just some place to plop down for a few hours and gorge on popcorn. The lobby greets you with sleek concrete, glass and steel that makes you feel more like you are going to a museum in New York rather than the new movie theater where the old one used to be. Once inside, you have three levels to enjoy eating, movie watching or sunset gazing.
Your first eating adventure is a mixture of cupcakes, coffee and beers on tap. On one occasion the cupcake and coffee café was filled with folks just enjoying the environs and the treats without realizing that they could also go upstairs to watch a movie.
At the main concession stand, you have such a wide selection of treats and beverages that I recommend getting there early because you will have a difficult time deciding what you will want to enjoy. At Angelika, your standard movie fare has a definite twist. Your beverage selection includes your usual soft drinks but these are pour your own from a soda fountain machine. This allows me my favorite drink combo – Diet Coke mixed with Barq's Root Beer. There is a selection of beers on tap: Port City Optimal Wit, Great Lakes Dortmunder Gold, Bell's Amber Ale, Lagunitas IPA as well as a fine selection of bottle beers. My guests were quite fond of the Port City Optimal Wit and the Lagunitas IPA. I have fallen in love with the Cupcake Prosecco and it is hard to sway me away from this. The Prosecco is smooth and light, not overly sweet. Yes, you can take these into the movie theater with you in a plastic cup.
If you have a difficult time deciding which meals to pair with the beverages there are several suggestions on the menu which include the Black Forest Ham and St Andre Sandwich recommended with the Michael David Seven Heavenly Chardonnay or the Bell's Amber Ale. Or you might like the Wasabi Chicken Breast Sandwich with the Dona Paula Malbec or Great Lakes Dortmunder Gold.
The other "food" is what you would expect at a movie theater – dogs, popcorn and nachos but with an upscale take. The nachos are blue corn chips, with your selection of toppings. The hot dogs – there are three choices – Kimchi, Mexi Cali or BLT. The Kimchi seems to be the favorite with Kimchi, and sautéed green onions. The piece de resistances are the popcorns that offered with different flavors with my favorite being Beer and Cheddar. However there is one more popcorn delicacy that bears special mention: the Angelika Junk.
Junk includes popcorn, pretzels, potato chips, Rice Krispy treats drizzled with caramel and chocolate sauce. And bacon. Yes, bacon! Now while this may not sound like something you would enjoy, trust me you will.
On my frequent trips over the last few weeks, I have ended up with Cupcake Prosecco and Junk either as my main movie snack or for the post movie snack up in the Lounge. The Lounge is on the third floor and has a great view toward the west. Now this can mean a great sunset or watching an approaching lightening storm, or gazing at the huge cell tower left over from the previous development.
The concession staff is still working out the kinks of getting to know the offerings and working with customers. The one complaint I have is that most of the food – hot dogs, nachos and sometimes the popcorn- is room temperature rather than hot.
In mulling over the movie going experience with friends, we still give the Angelika thumbs up as a great experience. You will pay more for the movie ($13) and for the refreshments (Junk $10) than you would at a regular movie theater, but I would rather enjoy a nice glass of Prosecco and a yummy treat than gorging on stale popcorn coated with who knows what washed down with a soft drink for just a little less. A colleague ventured away from his beloved E Street Cinema to join me on one of my ventures. He frequently ( 3 times a week) goes to the movies at the last minute, usually counting on the movie fare for dinner. He said he would really love knowing that his evening meal would be of the quality and variety that he found at Angelika, with great beer, nachos and hot dogs rather than what he usually has to settle on.
On an entertainment note, I do "love" the aspect of an independent movie theater closer than E Street or Shirlington and was quite plussed when several DC reporters and film goers at the Press Opening commented that this community "didn't deserve this theater". Touting the education, income and cultural aspects of the surrounding communities, I did politely correct them that we not only deserved this entertainment venue, but it will thrive in our community. I have truly enjoyed being able to watch Bill Murray and Laura Linney in Hyde Park on Hudson ( sneak preview, coming out in December), Samsara which is all visual images, Hello I Must Be Going, a quirky comedy, and The Perks of Being a Wallflower, a coming of age comedy drama. In the future I am looking forward to 7 Psychopaths with Woody Harrelson and Argo with Ben Affleck, not to mention the several other great film expositions that will be coming to town. There are CryBaby morning, Student nights and Baby Boomer specials listed on the website.
Angelika at Mosaic
Lee Highway at Gallows Road – behind the soon to open Target