MAN ABOUT TOWN: James Thurber Is Still Following Me
By GEORGE SOUTHERN
Falls Church Times Columnist
June 29, 2009
Poking around at the University Women's book sale at the Community Center, I came across a copy of The Thurber Carnival. Of course I had to buy it — James Thurber has been following me all my life.
I met James Thurber in the 7th or 8th grade — he was dead by then but his humor was alive in the English literature anthology I was told to read, which included "The Night the Ghost Got In," a story of his eccentric family while growing up in Columbus, Ohio. During the last 15 minutes of class we were supposed to "read silently" from the literature book. Thurber tells of hearing footsteps downstairs about quarter past one in the morning. Fearing burglars, his mother threw a shoe at the neighbors' bedroom window, breaking it and successfully waking them. Police arrived quickly, smashing through "our big heavy front door with its thick beveled glass . . . A half-dozen policemen . . . pulled beds away from walls, tore clothes off hooks in the closets, pulled suitcases and boxes off shelves."
Eventually they heard sounds from the attic, where Thurber's grandfather slept. Grandfather, Thurber wrote, "was going through a phase in which he believed that General Meade's men, under steady hammering by Stonewall Jackson, were beginning to retreat and even desert." As the police bounded up the attic stairs, Grandfather "evidently jumped to the conclusion that the police were deserters from Meade's army."
"Back, ye cowardly dogs! roared grandfather," as he knocked down an officer, grabbed his gun from its holster "and let fly," wounding the officer in the shoulder. "He fired once or twice more in the darkness and then went back to bed."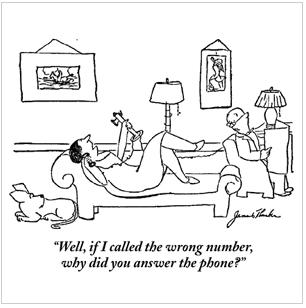 Reading that story in a quiet classroom was excruciating. First I giggled, and the teacher frowned. I kept reading — I had to know what happened next. Finally I burst out laughing. Imagine a time when you weren't supposed to laugh but couldn't help yourself. I knew someone who, listening to his boss's sentimental retirement speech, had to bite his tongue so hard that his mouth filled with blood. In my case, ultimately I was saved by the bell.
Thurber had an older brother, William, who outlived him and somehow came to reside in my hometown of Greensboro, North Carolina, where my father met him. Learning that he was James Thurber's brother, my dad, perhaps for sake of conversation, perhaps out of curiosity, mentioned to William that he had heard that Thurber's eventual blindness was caused by getting shot in the eye by an arrow when he was a boy. Was that true, my dad asked?
"I shot the arrow," replied William.
Oh.
My next Thurber encounter was not until college, where I studied "The Secret Life of  Walter Mitty" and wrote an analysis of it. I had a large male German shepherd, Bismark, who went everywhere with me and fought any dog foolish enough to take him on. This was in the little college town of Clemson, South Carolina. Soon enough, Bismark met up with a large Weimaraner, and they tangled more than once. And so I met the Weimaraner's owner, William Thurber, who had married a local woman in his old age. Again, Thurber was following me.
A year or so later William Thurber died, and by chance I read his obituary in the Greenville, SC, News. It was about an inch long, gave his age, birth and death dates, and named his surviving widow. That was it. I wrote a story about it in the college newspaper: "James Thurber's Brother Died Last Week, and the Greenville News Didn't Know." I penned a few paragraphs of college wisdom on the Billy Carter-like perils of having a famous brother.
End of story? No, but more than a few years went by, until I moved to Falls Church. It wasn't too long before I noticed the sign for the side street off Maple Avenue: "James Thurber Court." Nice, I thought, somebody must have really liked James Thurber to name the street after him.
Some time later I got the story: From 1901-03 Thurber lived with his family in the District, where his father had a job with an Ohio congressman. To escape the smothering Washington heat, Mr. Thurber rented a house in the "country" for the month of August 1902. The address was 319 Maple Avenue, Falls Church. James was 7 years old. During that August month he played a game of William Tell with his brothers, as they took turns shooting a blunt, rubber-tipped arrow at each other's back. When it came his turn, William was slow to aim and shoot, and James impatiently turned around only to catch the arrow in his left eye. A condition known as sympathetic blindness caused Thurber's eyesight to worsen over the years until he became almost completely blind.  His visual impairment led to his unique drawing style, and his New Yorker cartoons rivaled his stories in popularity. (Seeing only a blur, Thurber drew huge figures with white chalk on a black-papered wall; the result was photographed and the reduced negative produced normal black on white.)
Fast forward half a century. Living next door to the one-time Thurber summer house, but unaware of it, was Elizabeth Acosta, who in appreciation of Thurber's humor wrote him a "love letter" in 1958. According to columnist and best friend Mary McGrory, the letter said,  "I am getting old and fat, my last permanent didn't take, my five children have been throwing up for days, singly and in pairs, my husband is at a convention at some posh hotel, and I'M SORRY FOR MYSELF, SEE?"
Harrison Kinney's biography of Thurber quotes Acosta providing a slightly different account: "It was November, bleak and cold. My 12-year-old girl was learning to smoke; the 10-year-old boy was failing math; the six-year-old boy was a problem to his teacher; the four-year-old girl had an ear infection, and the baby had just given up his morning nap."
But we get the picture. What matters is that Thurber read the letter, noticed the return address, and wrote back, noting that he once lived next door. Thrilled, Acosta maintained a correspondence with Thurber which was later printed in the Saturday Evening Post.
Thurber died in 1961, around the time that a developer knocked down 319 Maple Avenue, ran a cul-de-sac through the property, and lined it with townhouses. Acosta successfully petitioned the City Council to name the cul-de-sac James Thurber Court.
Wonder where I'll find the old man next?
(MAN ABOUT TOWN is an occasional feature of The Falls Church Times.)
—————————————-
Links
Mary McGrory's tribute to her best friend, Elizabeth Acosta, in The Washington Post
John McKelway's remembrance of Elizabeth Acosta in The Washington Times
Richard Thompson's blog entry about Thurber on Maple Avenue
The Man Who Was Walter Mitty
, by Thomas Finsch