MAN ABOUT TOWN: We Don't Want-A-Bee Without Howie
By GEORGE SOUTHERN
Falls Church Times Columnist
November 15, 2010
I well remember the first time I met Howie the beekeeper at the Farmers Market. He had a modest little table at the very edge of the market set up with jars labeled "Howie's Honey." Having read something about the recent alarming decline in honeybees, I started asking him questions, and learned quite a bit.
I had read about farmers paying beekeepers to transport bees from long distances to pollinate their crops. But Howie explained that bees suffer stress, just like people do, and that constant travel is hard on them. He also shocked me with the news that bees increasingly are being fed high fructose corn syrup in place of natural pollen. You can taste the difference in the honey, he assured me.
Howie wouldn't remember that encounter – he talks to hundreds of folks at the Farmers Market – but I walked away feeling I had met a man who was leading an enviable life, doing precisely what he wanted.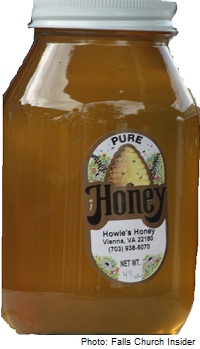 Only later after I got involved with the Falls Church Times and began attending City Council meetings did I discover that Howie (or Howard Herman, as he's officially known) does much more than keep bees. And his participation in the Farmers Market goes a lot further than selling honey. For as many readers know, Herman founded the City's Farmers Market in 1986 and has nurtured it ever since.
"When we first started, I was literally begging people to come," Herman told our former food critic, Jimmy Scarano, last year. "We had eight farmers and they would complain that there wasn't enough business for them. Some Saturdays I sat there and wondered if it would survive."
Well, survive it did, of course, and I'm betting that a big reason was Herman's stick-to-itiveness. And now, almost a quarter of a century later, the Falls Church Farmers Market has been recognized as #1 in the country within its size category.
Herman defines stick-to-itiveness.  He's worked for the City since his high school days — 40 years this October. And his job(s) include managing recreation and parks as well as community services – which seems to include about everything short of law enforcement.
The library? Herman's responsibility. Housing and Human Services? Herman. Court Services? Ditto.
Who's in charge of Memorial Day festivities – the most important day in the City? Herman, of course. And all the lesser events as well — Taste of Falls Church, Fall Festival, Farm Day, etc.
Howard has coached youth basketball teams for years and, according to our reader commenters, plays a mean game himself. If you see him you'll know why – he has a natural advantage.
Something I heard Howard say at a City Council work session last April stuck with me. It was during the time the Council was looking for ways to save a nickel here and a dime there in the face of a huge tax increase. As councils invariably do, they focused on penny-ante things while leaving big-ticket items (such as the Sheriff's budget) intact: Reduce library hours. Eliminate City funding for 4th of July fireworks, the Easter egg hunt, the Halloween carnival, and December 31 Watch Night.
That's when Herman spoke up (which he rarely does at Council sessions). These have been the City's "trademark events" for over 30 years, Howard emphasized. How could the City just suddenly eliminate them?
It was an eloquent plea, but eliminate them they did. And I didn't realize until now that when Herman spoke of "trademark events for over 30 years," those events were his own children, being struck down before his eyes.
A week ago today, Howard announced his retirement effective April 1, 2011.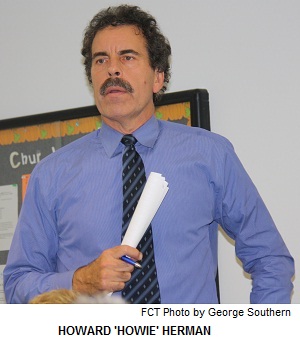 Retirement? Say it's not true! How can someone who has put 40 years into this City's community activities walk away? And besides, no one as youthful looking as Howard Herman should be allowed to retire.
The Little City is taking some big blows this year. Schools Superintendent Lois Berlin is retiring at the end of the school year, and filling her shoes is going to be a very tough job.
I'm in no position to begrudge anyone early retirement, but I can't help but suspect that these two outstanding City servants are a bit discouraged, as well they might be. We're fighting a losing battle on both the Schools and the City administration fronts. And if you follow the official meetings closely, you realize, as they say, that you ain't seen nothing yet. The City's future bodes ill with program cuts and personnel cuts acted out amid a backdrop of turf battles. Who will be the last (wo)man standing?
One consolation: No one is cutting the Farmers Market, and Howie owes it to his fans to continue to show up faithfully, with his jars of honey, for at least the next 25 years. Because we don't want-a bee without Howie.